Papa no Iu Koto o Kikinasai!
From Baka-Tsuki
Note: This Project has been declared as Abandoned!
and was taken down.




Please see Template:Abandoned for further information about this classification.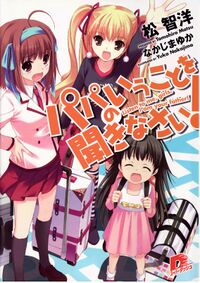 This project has been removed according to a request by its publisher, Shueisha.
Papa no Iu Koto o Kikinasai! series is also available in the following languages:
Papa no Iu Koto o Kikinasai! (パパのいうことを聞きなさい!), in short "Papa Kiki", also known officially as "Listen to me, girls. I am your father!", is a Japanese light novel series written by Matsu Tomohiro (松智洋) who is also the author of Mayoi Neko Overrun!, and with illustrations by Nakajima Yuka (なかじまゆか), published by Shueisha under their Super Dash Bunko imprint.
Story Synopsis
19-year Segawa Yuuta was looking forward to start his new university life and go through a normal university life, making new friends, etc, etc. But suddenly, when the plane which his elder sister and brother-in-law were on went missing, he became the 'father' of his three young nieces! Now, his six-tatami mat apartment not just has to accommodate himself, but 14-year old Sora, 10-year old Miu, and 3-year old Hina. What will be the fate of Yuuta?
Translation & Editing
Format Standards
Every Chapter (after editing) must conform to the general format guidelines.
Updates
1-September-2012

Volume 2 Chapter 2 completed.
5-June-2012

Volume 3 Chapter 6 completed.
Volume 3 Epilogue completed.
Volume 3 Afterword completed.
Older updates can be found on the Papa no Iu Koto o Kikinasai! Updates page.
The Papa no Iu Koto o Kikinasai! series by Matsu Tomohiro
Project Staff
Translators
INACTIVE
Editors
All editors that speak English proficiently are welcomed.
INACTIVE
M.I.A.
Series Overview
パパのいうことを聞きなさい! (December 25, 2009 ISBN 978-4-08-630526-6)
パパのいうことを聞きなさい!2 (February 22, 2010 ISBN 978-4-08-630533-4)
パパのいうことを聞きなさい!3 (May 25, 2010 ISBN 978-4-08-630547-1)
パパのいうことを聞きなさい!4 (September 25, 2010 ISBN 978-4-08-630569-3)
パパのいうことを聞きなさい!5 (November 25, 2010 ISBN 978-4-08-630582-2)
パパのいうことを聞きなさい!6 (January 25, 2011 ISBN 978-4-08-630588-4)
パパのいうことを聞きなさい!7 (May 25, 2011 ISBN 978-4-08-630611-9)
パパのいうことを聞きなさい!8 (September 22, 2011 ISBN 978-4-08-630635-5)
パパのいうことを聞きなさい!9 (January 25, 2012 ISBN 978-4-08-630658-4)
パパのいうことを聞きなさい!10 (May 25, 2012 ISBN 978-4-08-630678-2)
パパのいうことを聞きなさい!11 (October 25, 2012 ISBN 978-4-08-630704-8)
パパのいうことを聞きなさい!12 (February 22, 2013 ISBN 978-4-08-630719-2)
パパのいうことを聞きなさい!13 (June 25, 2013 ISBN 978-4-08-630733-8)
パパのいうことを聞きなさい!14 (October 25, 2013 ISBN 978-4-08-630756-7 )
パパのいうことを聞きなさい!15 (February 25, 2014 ISBN 978-4-08-630771-0 )
パパのいうことを聞きなさい!16 (June 25, 2014 ISBN 978-4-08-630787-1 )
パパのいうことを聞きなさい!17 (January 23, 2015 ISBN 978-4-08-630805-2)
パパのいうことを聞きなさい!18 (March 25, 2015 ISBN 978-4-08-907051-2)