Ryuu to Aitsu to Kawaige no Nai Watashi
Jump to navigation
Jump to search
Project Status: IDLE

This project has not been updated in the past 3 months.
Help revive this project by joining the translation team! — Learn more about Baka-Tsuki activity status.
| | |
| --- | --- |
| | This Teaser Project has not yet reached Full Project status requirements. |
Help this project out by joining the translation team! — Learn more about Full Project Approval Requirements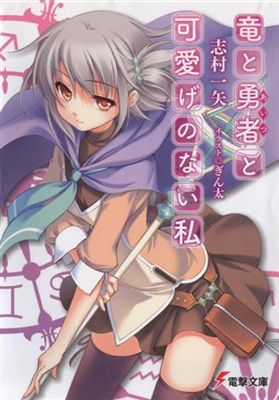 Ryuu to Aitsu to Kawaige no Nai Watashi (竜と勇者と可愛げのない私, The Dragon, the Hero, and the Uncute Me) is a light novel series written by Shimura Kazuya (志村一矢) and illustrated by Ginta (ぎん太). The series is serialized in Dengeki Bunko.
Story Synopsis
[
edit
]
Ange, a Royal Magician, is looked down on by her peers despite her excellent ability because she's a commoner. To bear the loneliness, she closed her heart and lost her cute side. Ange was given a mission to save the world by defeating the Demon Lord May-Hem. In addition to this, she has to travel with Rex, a good-for-nothing knight who was born in a family of heroes, but has a fear of blood.
Translation
[
edit
]
Translators are asked to register for chapters they want to work on.
Format Standards
[
edit
]
Every Chapter (after editing) must conform to the general format guidelines.
Feedback
[
edit
]
If you enjoyed the teaser, why don't you tell us in the Feedback Thread
Updates
[
edit
]
20 July 2013 - Project page created.
Ryuu to Aitsu to Kawaige no Nai Watashi by Shimura Kazuya
[
edit
]
I suggest reading Volume 2 before Volume 1. Read more about it here. --jonathanasdf
Volume 1
[
edit
]
Volume 2
[
edit
]
Volume 3
[
edit
]
Volume 4
[
edit
]
Volume 5
[
edit
]
Volume 6
[
edit
]
Volume 7
[
edit
]
Volume 8
[
edit
]
Project Staff
[
edit
]
Project Administrator:
Project Manager:
Translators
[
edit
]
Editors
[
edit
]
Series Overview
[
edit
]
Volume 1 - 竜と勇者と可愛げのない私 (February 10, 2010 ISBN 978-4-04-868335-7)
Volume 2 - 竜と勇者と可愛げのない私 2 (August 10, 2010 ISBN 978-4-04-868771-3)
Volume 3 - 竜と勇者と可愛げのない私 3 (January 6, 2011 ISBN 978-4-04-870179-2)
Volume 4 - 竜と勇者と可愛げのない私 4 (June 10, 2011 ISBN 978-4-04-870589-9)
Volume 5 - 竜と勇者と可愛げのない私 5 (October 8, 2011 ISBN 978-4-04-870876-0)
Volume 6 - 竜と勇者と可愛げのない私 6 (April 10, 2012 ISBN 978-4048865203)
Volume 7 - 竜と勇者と可愛げのない私 7 (August 10, 2011 ISBN 978-4048868136)
Volume 8 - 竜と勇者と可愛げのない私 8 (December 8, 2012 ISBN 978-4048911634)