Sekai Ichi no Imouto-sama
Jump to navigation
Jump to search
Project Status: IDLE

This project has not been updated in the past 3 months.
Help revive this project by joining the translation team! — Learn more about Baka-Tsuki activity status.
Sekai Ichi no Imouto-sama (세계 제일의 여동생님) is a Korean light novel series written by Kim Wolhui (김월희) and illustrated by nyanya. The series is complete with 4 volumes.
Story Synopsis
[
edit
]
Maria Lunalady Blackhazel is a beautiful genius with heterochromatic eyes. Oh, that and she's also the leader of a ruthless, multinational private military company that brings forth chaos and destruction. Known as the "Princess of Pure Darkness" around the world, she's the subject of many people's admiration, hatred and fear. But to the main character Siyoung, she's an irrelevant person living in a completely different world. That is, until one day she suddenly shows up and kisses him.
"I wanted to see you, Onii-sama..."
And just like that, Siyoung was given the world's greatest little sister.
Translations
[
edit
]
Translations and editing by Imoutolicious LNT
Updates
[
edit
]
December 7, 2014 - Volume 2, Chapter 2, Part 3 Complete.
May 5, 2014 - Volume 2, Chapter 2, Part 2 Complete.
The Sekai Ichi no Imouto-sama series by Kim Wolhui

[

edit

]
Volume 1: My Darkness Sister
[
edit
]
All links below are external links to Imoutolicious Light Novel Translations
Chapter Ⅰ. Maria :: She is the law
Chapter Ⅱ. Lily :: Who is she
Chapter Ⅲ. Maria :: Please look at me
Chapter Ⅴ. Dorothy :: Please look at me (2)
Chapter Ⅵ. Maria & Dorothy :: Because we are a family
Volume 2: Black & White
[
edit
]
All links below are external links to Imoutolicious Light Novel Translations
Chapter Ⅰ. Dorothy :: My little sister can't be this cute
Chapter Ⅱ. Baekryeon :: Psychopath
Chapter Ⅲ. Baekryeon & Maria :: Every girl wanna be a mate
Chapter Ⅳ. Maria :: Everyone has a skeleton in their closet
Chapter Ⅴ. Maria & Baekryeon :: Deus ex machina
Epilogue. To that hand you reached out :: Siyoung
Afterword
Volume 3: Fairy Wedding
[
edit
]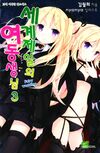 Chapter Ⅰ. Lily :: Love on the Run
Chapter Ⅱ. Lily :: Honeymoon
Chapter Ⅲ. Siyoung :: The Evil One
Chapter Ⅳ. Maria & Lina :: Shupiel
Chapter Ⅴ. Lily & Lina :: Shupiel(2)
Chapter Ⅵ. Lina & Lily :: Sacrifice
Afterword
Volume 4: Beautiful World
[
edit
]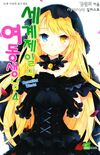 Part One - Beautiful World

Chapter Ⅰ½ Remnants :: The Leavers
Chapter Ⅰ. Maria :: She isn't the law
Chapter Ⅱ. Maria :: Justice
Chapter Ⅲ. Maria & Maria :: Good & Evil
Chapter Ⅳ. Maria :: Lovely Sister

Part Two - Cinderella

Chapter Ⅰ. Siyoung :: The Greatest Brother in the World
Chapter Ⅱ. Maria :: Glass Shoes

Epilogue.
Afterword
Project Staff
[
edit
]
Project Administrator:
Project Supervisor:
Translators
[
edit
]
Editors
[
edit
]
Series Overview
[
edit
]
세계 제일의 여동생님 (January 1, 2012) - ISBN 978-8-9267-8107-4
세계 제일의 여동생님. 2 (April 1, 2012) - ISBN 978-8-9267-8125-8
세계 제일의 여동생님. 3 (September 1, 2012) - ISBN 978-8-9267-8158-6
세계 제일의 여동생님. 4 (December 1, 2012) - ISBN 978-8-9267-8178-4