Sorairo Pandemic
Jump to navigation
Jump to search
Project Status: HALTED

This project has not been updated in the past 12 months.
Help revive this project by joining the translation team! — Learn more about Baka-Tsuki activity status.
| | |
| --- | --- |
| | This Teaser Project has not yet reached Full Project status requirements. |
Help this project out by joining the translation team! — Learn more about Full Project Approval Requirements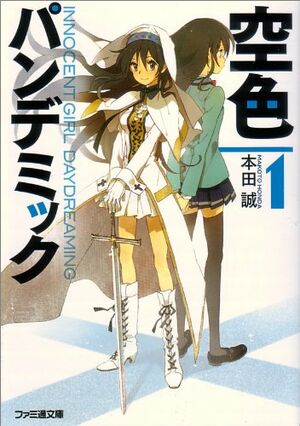 Sorairo Pandemic: Innocent Girl Daydreaming (空色パンデミック) is a Japanese light novel series written by Makoto Honda, with illustrations by Niwa. Makoto entered the first novel in the series, originally titled セカイを敵にまわす時, into Enterbrain's 11th Entertainment Awards in 2009 and the novel won the Special Prize.
Story Synopsis
[
edit
]
There is a strange disease that causes people to have spontaneous episodes in which they lose touch with reality and behave as if they're living in their own fantasy world. It's currently a manageable condition, as the sufferers just need someone to watch after them. If they have an episode, the monitor makes sure nothing happens to the dreamer or anyone else. Nakanishi Kei runs into someone with this daydreaming illness, a young woman who insists he's "Pierrot the Ripper" upon meeting him and drags him into her wild dream scenario. Even after her scene ends, she seems determined to inject herself into his life...
Translation
[
edit
]
Translators are asked to register which chapters they're working on.
Format Standards
[
edit
]
Feedback
[
edit
]
If you enjoyed the teasers, why don't you tell us in the Feedback Thread
Updates
[
edit
]
August 3, 2012: Page created
The Sorairo Pandemic series by Makoto Honda

[

edit

]
Volume 1
[
edit
]
Chapter 1
Chapter 2
Chapter 3
Chapter 4
Chapter 5
Chapter 6
Epilogue
Author's Notes
Project Staff
[
edit
]
Project Administrator:
Project Manager:
Translators
[
edit
]
Editors
[
edit
]
Series Overview
[
edit
]
Sorairo Pandemic 1 -空色パンデミック1 (January 30, 2010) ISBN 978-4-04-726287-4
Project Status
[
edit
]
Project Status: Teaser