The Reunion With Twelve Fascinating Goddesses
Jump to navigation
Jump to search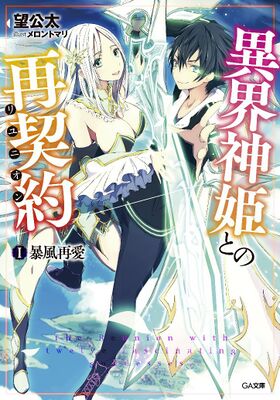 The Reunion With Twelve Fascinating Goddesses (異界神姫との再契約) is a light novel series written by Kota Nozomi (望 公太) and illustrated by Merontomari (メロントマリ).
The Reunion With Twelve Fascinating Goddesses is also available in the following languages:
Story Synopsis
[
edit
]
A young man named Kurosu Tooi was summoned to another world.
He commanded 12 beautiful goddesses to defeat the demon king in order to return to his world.
After one year. He returned back to the other world but, 10 years passed there-----
"Long time no see, Tooi Onii-chan."
"Did you fall in love with my breasts?"
His otherworldly comrades have aged.
However, the [Nebulosa12 Goddesses] Tooi released are on a rampage in every parts of the continent.
"Cry in joy, Tooi Cross. The enemies this time are the women you loved."
His strongest servants are now his strongest enemies. It's time to save his scattered comrades; in his 2nd coming to the other world, he has to fight, talk and make them fall for him! Let the curtain unfold, for this an Reunion fantasy of obtaining the strongest Goddesses (Heroines)!
Recent Updates
[
edit
]
October 9th, 2015 - Teaser page, Prologue Completed
October 31st, 2015 - Volume 1 Completed
December 18th, 2015 - Volume 2 Completed
The Reunion With Twelve Fascinating Goddesses by Kota Nozomi

[

edit

]
Volume 1 Love the Violent Wind Again (Full Text - PDF)

[

edit

]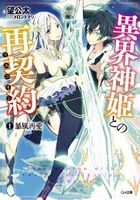 Volume 2 War with the Weapon Empress Again (Full Text - PDF)

[

edit

]
Project Staff
[
edit
]
Supervisor:
Project Manager:
Translators
[
edit
]
ACTIVE
Editors
[
edit
]
ACTIVE
Series Overview
[
edit
]
異界神姫との再契約 1 暴風再愛 (31 December 2014, ISBN 978-4-7973-8160-3)
異界神姫との再契約 2 武皇再戦 (30 June 2015, ISBN 978-4-7973-8297-6)