The Reunion With Twelve Fascinating Goddesses ~ (Spanish)
Jump to navigation
Jump to search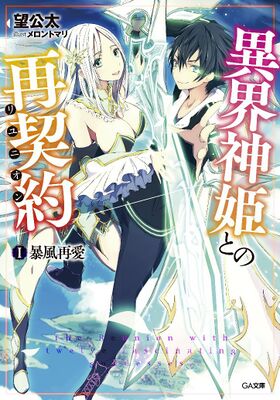 The Reunion With Twelve Fascinating Goddesses (異界神姫との再契約) es una serie de novelas ligeras escrita por Kota Nozomi (望 公太) e ilustrada por Merontomari (メロントマリ).
The Reunion With Twelve Fascinating Goddesses tambien esta disponible en los siguientes idiomas:
Sinopsis de la Historia
[
edit
]
Un joven muchacho llamado Kurosu Tooi fui invocado a otro mundo.
Comando a 12 hermosas diosas apara derrotar al rey demonio y así regresar a su mundo.
Después de un año. Regreso al otro mundo pero, 10 años habían pasado ahí—
"Hace mucho que no nos vemos, Tooi Onii-chan."
"¿Te enamoraste de mis pechos?"
Sus camaradas de otro mundo habían envejecido.
Sin embargo, las [12 Diosas – Nebulosa] que Tooi libero están causando estragos en cada parte del continente.
"Llora de la emoción, Tooi Cros. Los enemigos de ahora son las mujeres que amas."
Sus sirvientas más fuertes ahora son sus enemigos más fuertes. ¡Es hora de salvar a sus camaradas dispersas; en su segunda llegada al otro mundo, tiene que luchar, hablar y hacer que se enamoren de él! ¡Dejemos que las cortinas se desplieguen, para esta reunión de fantasía para obtener a las diosas más fuertes (Heroínas)!
Actualizaciones
[
edit
]
Marzo 16, 2016 - Prólogo y Capítulo 1.
Marzo 27, 2016 - Capítulo 2.
Marzo 28, 2016 - Capítulo 3.
Abril 10, 2016 - Volumen 1, Completo
Traducción
[
edit
]
Aquellos que deseen contribuir, se les pide que notifiquen previamente al administrador del proyecto en español.
Se les pide a los traductores que desean colaborar con la traducción de esta novela se registren en los capítulos en los cuales deseen trabajar.
Estándares de Formato
[
edit
]
Cada capítulo (después de ser editado) debe conformarse a las estándares de formato y mantener la misma terminología usada. Los editores deben verificar los estándares si es posible. A los traductores y editores se les require que participen activamente en el foro en los estándares del proyecto.
A continuacion los estándares de formato y las normas y terminología específicas para este proyecto (están en inglés).
Información de la serie
[
edit
]
Genero: Acción, Comedia, Drama, Ecchi, Fantasia, Romance, Harem.
Titulo Original: 異界神姫との再契約
Autor: Kota Nozomi
Ilustrador: Merontomari
Volumenes Publicados: 2
Estado de la serie: En curso
The Reunion With Twelve Fascinating Goddesses escrita por Kota Nozomi

[

edit

]
Volumen 1 Nuevamente amo el Viento Impetuoso

[

edit

]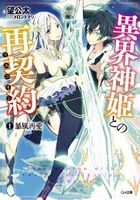 Volumen 2 Nuevamente una guerra con la Emperatriz de las Armas

[

edit

]
Staff del proyecto
[
edit
]
Traductores
[
edit
]
ACTIVOS
Editores
[
edit
]
ACTIVOS
Series Overview
[
edit
]
異界神姫との再契約 1 暴風再愛 (Diciembre 31 del 2014, ISBN 978-4-7973-8160-3)
異界神姫との再契約 2 武皇再戦 (Junio 30 del 2015, ISBN 978-4-7973-8297-6)