The World God Only Knows
From Baka-Tsuki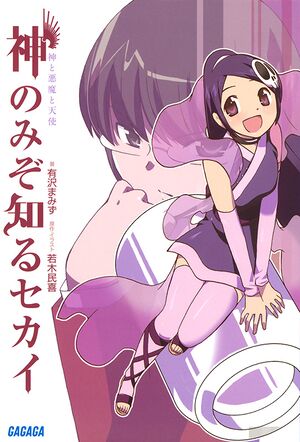 The World God Only Knows (神のみぞ知るセカイ) is a light novel series written by Mamizu Arisawa and illustrated by Tamiki Wakaki.
The series has currently 2 volumes.
Story Synopsis
(to be done)
Translation
Those who wish to contribute are asked to first notify a supervisor beforehand.
Translators are asked to register which chapters they're working on
Format Standards
Every Chapter (after editing) must conform to the general format guidelines.
Updates
December 29, 2011 - Project page created
Older updates can be found on the The World God Only Knows Updates page.
The World God Only Knows series by Mamizu Arisawa
Volume 1 - 神と悪魔と天使
Volume 2 - 祈りと呪いとキセキ
Project Staff
Translators
ACTIVE
Editors
Series Overview
Volume 1 - 神と悪魔と天使 (May 2009) ISBN 978-4-09-451137-6
Volume 2 - 祈りと呪いとキセキ (May 2010) ISBN 978-4-09-451203-8