Tsurugi no Joou to Rakuin no Ko
Jump to navigation
Jump to search
This Project is still PENDING Authorisation.


Please read Template:Warning:ATP for further information
Tsurugi no Joou no Rakuin no Ko (剣の女王と烙印の仔) also known as The Sword Queen and the Branded Child is a light novel written by Hikaru Sugii. The illustrations are done by Yu Jin. The series is complete at 8 volumes and is published by MF Bunko J.
Story Synopsis
Chris was a boy who was cursed with the Brand of the Beast that devoured the fates of the surrounding people. His life changed when he met a girl when he was wandering a corpse-laden battlefield as a young mercenary. She, Minerva, appeared before his eyes waving a huge sword in clothes of pure white. With the power of foresight and overwhelming swordsmanship, she was a legendary swordswoman feared as a grim reaper. Smiling in slaughter and weeping in sleep, that was the heavy burden shouldered by the girl. That fateful night, Minerva's fate of being killed by Chris was distorted by the brand. The two souls destined to be in the company of death met in the depths of despair. In the symphony of blades and blood, the boy and girl's beautiful legend of sorrowful magnificence is born!
Updates
March 07, 2012 – Initiation as a teaser project
March 07, 2012 - Volume 1 Chapter 3 completed as teaser chapter
September 29, 2012 - Volume 1 Chapter 1 completed
September 30, 2012 - Volume 1 Chapter 2 completed
October 1, 2012 - Volume 1 Chapter 4 completed
October 3, 2012 - Volume 1 Chapter 5 completed
October 18, 2012 - Volume 1 Chapter 6 completed
November 12, 2012 - Volume 1 Chapter 7 completed
November 30, 2012 - Volume 1 Chapter 8 completed
March 25, 2013 - Volume 1 Chapter 9 completed
April 10, 2013 - Volume 1 completed
Translation
Those who wish to contribute are asked to first notify a supervisor before hand.
Translators are asked to register which chapters they're working on.
Format Standards
Every chapter (after editing) must conform to the general format guidelines.
Feedback
If you enjoyed the teaser, why don't you tell us in the Feedback Thread or discuss this series in the forum!
The Tsurugi no Joou to Rakuin no Ko series by Hikaru Sugii
Volume 2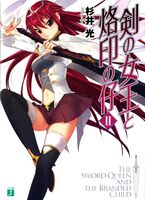 Chapter 1
Chapter 2
Chapter 3
Chapter 4
Chapter 5
Chapter 6
Chapter 7
Chapter 8
Chapter 9
Chapter 10
Afterword
Volume 3
Chapter 1
Chapter 2
Chapter 3
Chapter 4
Chapter 5
Chapter 6
Chapter 7
Chapter 8
Afterword
Volume 4
Chapter 1
Chapter 2
Chapter 3
Chapter 4
Chapter 5
Chapter 6
Chapter 7
Chapter 8
Chapter 9
Afterword
Volume 5
Chapter 1
Chapter 2
Chapter 3
Chapter 4
Chapter 5
Chapter 6
Chapter 7
Chapter 8
Afterword
Volume 6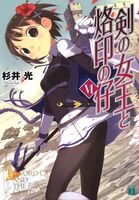 Chapter 1
Chapter 2
Chapter 3
Chapter 4
Chapter 5
Chapter 6
Chapter 7
Chapter 8
Afterword
Volume 7
Chapter 1
Chapter 2
Chapter 3
Chapter 4
Chapter 5
Chapter 6
Chapter 7
Chapter 8
Chapter 9
Afterword
Volume 8
Chapter 1
Chapter 2
Chapter 3
Chapter 4
Chapter 5
Chapter 6
Chapter 7
Chapter 8
Chapter 9
Afterword
Project Staff
Project Administrator:
Project Supervisor:
Translators
ACTIVE
INACTIVE
Editors
ACTIVE
INACTIVE
Series Overview
剣の女王と烙印の仔 1 (MF文庫J) [文庫] (April 2009 ISBN 978-4840127554)
剣の女王と烙印の仔 2 (MF文庫J す 3-2) [文庫] (July 25, 2009 ISBN 978-4840128445)
剣の女王と烙印の仔 3 (MF文庫J) [文庫] (October 21, 2009 ISBN 978-4840130592)
剣の女王と烙印の仔 4 (MF文庫J) [文庫] (January 2010 ISBN 978-4840131629)
剣の女王と烙印の仔 5 (MF文庫J) [文庫] (May 22, 2010 ISBN 978-4840134040)
剣の女王と烙印の仔 6 (MF文庫J) [文庫] (September 18, 2010 ISBN 978-4840135061)
剣の女王と烙印の仔 7 (MF文庫J) [文庫] (February 25, 2011 ISBN 978-4840138178)
剣の女王と烙印の仔 8 (MF文庫J) [文庫] (November 23, 2011 ISBN 978-4840142960)