Горизонт на границе пустоты
From Baka-Tsuki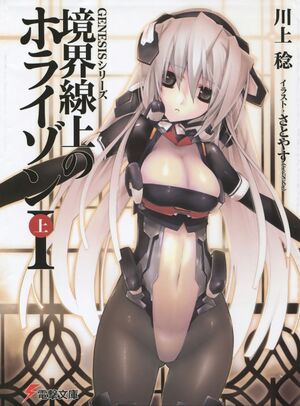 Горизонт на Границе Пустоты (境界線上のホライゾン/Horizon on the Middle of Nowhere) Ранобе, написанное Каваками Минору и проиллюстрированное Сатоясу (Тенку). Эта серия продолжает вселенную, созданную Минору в более ранних ранобе.
Серия так же переводится на следующие языки:
Краткое содержание
[
edit
]
В будущем человечество для получения энергии опустошило земные ресурсы и отправилось в космос. Однако по неизвестной причине цивилизация вне земли рухнула и люди вернулись обратно на Землю, заселив заново Японию. Для того, чтобы снова освоить космос, человечество должно заново возродить историю и пройти эволюцию общества в 10.000 лет. В 1413 году «эры завета» японский остров был раздроблен разными нациями на несколько государств а большинство коренных жителей были изгнаны. Действие романа происходит в 1648 году, коренные жители Японии живут в летающем городе-корабле «Мусаси», который подвергается преследованию со стороны «союза завета». Сами новые страны воссоздают человеческую историю, однако ходят слухи о скорой войне и апокалипсисе, этим решает воспользоваться Тори Аой, глава Верховной Федерации Мусаси и президент студенческого совета, чтобы со своими учениками вернуть свою родину.
Согласно роману японский остров был поделён на следующие государства по культурным и этническим признакам под предводительством историчестких японских кланов: Кёкуто (極東, дальний восток) в регионах Токай и Канто под предводительством клана Мацудайра; П.A.Ода (Средний Восток) в регионах Кансай и Токай; Хексагон Франчайзе (六護式仏蘭西, Эгудзагон Фурансэдзу; Франция) в регионе Тюгоку под предводительством клана Мори; Священная римская империя/М. Х.Р.Р(神聖ローマ帝国 Синсэй Рома Тэйкоку) в регионе Кинки под предводительством клана Хасиба; Англия(英国, Ингурандо; Англия) в регионе Цусима; К. П. А. Италия (Италия) во внутреннем японском море под предводительством клана Аки; Трес Эспанья (三征西班牙, Торэсу Эсупаниа; Испания) в регионе Симоносеки под предводительством кланов Оути и Отомо; Совет Русь (上越露西亜, Сувиэто Руси; СССР) в регионе Хокурикудо под предводительством клана Уэсуги; Цин-Такэда (清武田, Син-Такэда; Китай) в регионе Канто под предводительством клана Такэда; Африка-Сёкоку (アフリカ諸国, Афурика Сёкоку; Африка) в регионе Кюсю под предводительством клана Симадзу и Индия Сёкоку Рэнго (印度諸国連合, Индо Сёкоку Рэнго; Индия) в регионах Токай и Канто под предводительством клана Го-Ходзё.
Горизонт на Границе Пустоты

[

edit

]
Горизонт на Границе Пустоты 1-A
[
edit
]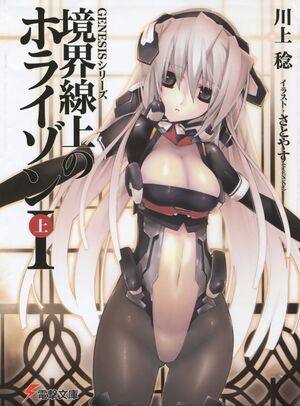 Переводчики
[
edit
]
Kami:
Список серий
[
edit
]
Kyoukai Senjou no Horizon 1A - 境界線上のホライゾンI<上> (September 10, 2008, ISBN 978-4-04-867218-4)
Kyoukai Senjou no Horizon 1B - 境界線上のホライゾンI<下> (October 10, 2008, ISBN 978-4-04-867270-2)
Kyoukai Senjou no Horizon 2A - 境界線上のホライゾンII<上> (June 10, 2009, ISBN 978-4-04-867848-3)
Kyoukai Senjou no Horizon 2B - 境界線上のホライゾンII<下> (July 10, 2009, ISBN 978-4-04-867901-5)
Kyoukai Senjou no Horizon 3A - 境界線上のホライゾンIII<上> (June 10, 2010, ISBN 978-4-04-868600-6)
Kyoukai Senjou no Horizon 3B - 境界線上のホライゾンIII<中> (July 10, 2010, ISBN 978-4-04-868647-1)
Kyoukai Senjou no Horizon 3C - 境界線上のホライゾンIII<下> (September 10, 2010, ISBN 978-4-04-868735-5)
Kyoukai Senjou no Horizon 4A - 境界線上のホライゾンIV<上> (September 10, 2011, ISBN 978-4-04-870805-0)
Kyoukai Senjou no Horizon 4B - 境界線上のホライゾンIV<中> (October 10, 2011, ISBN 978-4-04-870806-7)
Kyoukai Senjou no Horizon 4С - 境界線上のホライゾンIV<下> (December 10, 2011, ISBN 978-4-04-870807-4)
Kyoukai Senjou no Horizon 5A - 境界線上のホライゾンV<上> (August 10, 2012, ISBN 978-4-04-886854-9)
Kyoukai Senjou no Horizon 5B - 境界線上のホライゾンV<下> (October 10, 2012, ISBN 978-4-04-886855-6)
Kyoukai Senjou no Horizon 6A - 境界線上のホライゾンVI<上> (May 10, 2013, ISBN 978-4-04-891623-3)
Kyoukai Senjou no Horizon 6B - 境界線上のホライゾンVI<中> (July 10, 2013, ISBN 978-4-04-891820-6)
Kyoukai Senjou no Horizon 6C - 境界線上のホライゾンVI<下> (September 10, 2013, ISBN 978-4-04-891624-0)
Kyoukai Senjou no Horizon 7A - 境界線上のホライゾンVII<上> (February 10, 2014, ISBN 978-4-04-866311-3)
Kyoukai Senjou no Horizon 7B - 境界線上のホライゾンVII<中> (April 10, 2014, ISBN 978-4-04-866475-2)
Kyoukai Senjou no Horizon 7C - 境界線上のホライゾンVII<下> (June 10, 2014, ISBN 978-4-04-866564-3)