Bokusatsu Tenshi Dokuro-chan
Jump to navigation
Jump to search
Project Status: HALTED

This project has not been updated in the past 12 months.
Help revive this project by joining the translation team! — Learn more about Baka-Tsuki activity status.
| | |
| --- | --- |
| | This Teaser Project has not yet reached Full Project status requirements. |
Help this project out by joining the translation team! — Learn more about Full Project Approval Requirements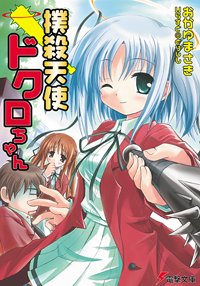 Bokusatsu Tenshi Dokuro-chan (撲殺天使ドクロちゃん, literally Club-To-Death Angel Dokuro-chan) is a novel series written by Masaki Okayu and illustrated by Torishimo.
The series is complete with 10 volumes (11 with extras). There is also one manga adaptation, two anime adaptations and a PS 2 game available.
Story Synopsis
[
edit
]
Centered around a young boy named Kusakabe Sakura and an angel from the future, Dokuro-chan. She's cute, loving, and frequently kills him violently with a giant spiked club named Excalibolg only to resurrect him seconds later, but that's how she shows her love for him.
Translation
[
edit
]
Translators are asked to register which chapters they're working on (see the Guideline page for usage rules).
Format Standards
[
edit
]
Feedback
[
edit
]
If you enjoyed the chapters, why don't you tell us in the Feedback Thread
Updates
[
edit
]
21st October 2007

Bokusatsu Tenshi Dokuro-chan teaser project initiated.

March 6 2011 upgraded
Bokusatsu Tenshi Dokuro-chan by Masaki Okayu
[
edit
]
Volume 1
[
edit
]
Chapter 1 (25% done)
Chapter 4
Author's Notes
Project Staff
[
edit
]
Supervisor:
Project Manager: HolyCow
Translators
[
edit
]
ACTIVE
RETIRED
Editors
[
edit
]
ACTIVE
Project Status
[
edit
]
Series Overview
[
edit
]
撲殺天使ドクロちゃん 2003年6月10日 ISBN 4-8402-2392-0
撲殺天使ドクロちゃん 2 2003年10月10日 ISBN 4-8402-2490-0
撲殺天使ドクロちゃん 3 2004年3月10日 ISBN 4-8402-2637-7
撲殺天使ドクロちゃん 4 2004年9月10日 ISBN 4-8402-2784-5
撲殺天使ドクロちゃん 5 2005年3月10日 ISBN 4-8402-2994-5
撲殺天使ドクロちゃん 6 2005年9月10日 ISBN 4-8402-3143-5
撲殺天使ドクロちゃん 7 2006年3月10日 ISBN 4-8402-3343-8
撲殺天使ドクロちゃん 8 2006年9月10日 ISBN 4-8402-3548-1
撲殺天使ドクロちゃん 9 2007年3月10日 ISBN 4-8402-3756-5
撲殺天使ドクロちゃん10 2007年10月10日 ISBN 978-4-8402-4030-7