Fate/Apocrypha
Jump to navigation
Jump to search
Project Status: IDLE

This project has not been updated in the past 3 months.
Help revive this project by joining the translation team! — Learn more about Baka-Tsuki activity status.
Only available to registered users. Register hereDo you follow this series? Rate it!

Fate/Apocrypha (フェイト/アポクリファ, Feito/Apokurifa) is a light novel series written by Higashide Yuichiro. The illustrations are done by Konoe Ototsugu. The series is complete with 5 volumes.

The Fate/Apocrypha series is available in the following languages:
Story Synopsis
The story is set in a parallel world to original Fate/stay night where the Grail was removed from Fuyuki City after the Third War and thus events of Fate/stay night and Fate/Zero never happened. It focuses on the conflict between the two opposing factions. Red and Black, each summoning seven Servants, and the Grail itself summoning a special Ruler-class servant as a mediator of the Holy Grail War. The Red faction members were sent by the Clock Tower Mage's Association, while the Black faction members are part of a Romanian group called Yggdmillennia.
Translation
Since there isn't any new chapter for now, I can't say 'Those who wish to contribute are asked to first notify a supervisor beforehand via the forum.'
Format Standards
Updates
March 31, 2017 - Volume 4 completed
December 2, 2016 - Volume 3 Chapter 3 Part 7
April 9, 2016 - Volume 3 Chapter 2
September 6, 2015 - Volume 3 Chapter 1
December 29, 2014 - Volume 2 completed
October 14, 2014 - Volume 3 Prologue
September 22, 2014 - Volume 1 completed
Fate/Apocrypha by Higashide Yuichiro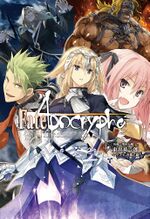 Volume 2: Round Dance of Black / Festival of Red (PDF/ePub from Nanodesu)
 

Volume 3: Triumphal Return of the Saint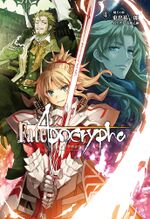 Volume 5
 

Fate/Apocrypha: Unbirth by Higashide Yuichiro
Project Staff
Translators
ACTIVE
Editors
Series Overview
Fate/Apocrypha vol.1「外典:聖杯大戦」 (December 31, 2012)
Fate/Apocrypha vol.2「黒の輪舞/赤の祭典」 (August 16, 2013)
Fate/Apocrypha vol.3「聖人の凱旋」 (December 31, 2013)
Fate/Apocrypha vol.4「熾天の杯」 (May 30, 2014)
Fate/Apocrypha vol.5「邪竜と聖女」 (December 30, 2014)