Golden Time (Indonesia)
Jump to navigation
Jump to search
| | |
| --- | --- |
| | This Teaser Project has not yet reached Full Project status requirements. |
Help this project out by joining the translation team! — Learn more about Full Project Approval Requirements
Golden Time adalah sebuah seri novel yang ditulis oleh Takemiya Yuyuko dan diilustrasikan oleh Komatsu Eiji. Novel ini mempunyai sebuah adaptasi manga yang ditulis oleh penulis aslinya yang masih dikerjakan dan diilustrasikan oleh Umechazuke. Sebuah adaptasi anime sedang disiarkan dalam dua musim: musim gugur 2013 dan musim dingin 2014
Golden Time juga tersedia dalam bahasa berikut:
Sinopsis Cerita
[
edit
]
Tada Banri, seorang mahasiswa yang baru diterima di fakultas hukum swasta di Tokyo, yang tersesat menemukan jalan ke orientasi mahasiswa baru. Pada saat itu, ia bertemu dengan mahasiswa yang tersesat lainnya dari fakultas yang sama, Yanagisawa Matsuo, dan mereka pun langsung menjadi akrab. Entah bagaimana saat mereka telah tiba di tempat tujuan, di depan mereka muncul seorang gadis cantik yang membawa karangan bunga mawar. Gadis itu kemudian memukul wajah Mitsuo dengan karangan mawar tersebut dan menyerahkannya kepadanya. "Selamat" hanya itu yang diucapkan olehnya, dan kemudian meninggalkan mereka. Wanita sempurna yang penuh gaya dan sempurna yang telah memukul Mitsuo ternyata adalah teman masa kecilnya, Kaga Kouko. Saat masih kecil mereka telah berjanji untuk menikah suatu hari nanti, dan memenuhi janji mereka. Karena ingin melarikan diri darinya, Mitsuo pergi diam-diam dan mengambil ujian untuk kuliah di universitas swasta yang terkenal, tapi sekarang dia muncul di ruang orientasi mahasiswa baru. Dia juga telah mengambil ujian masuk fakultas hukum, bertemu dengan mereka di sana. hohoho
Penerjemahan
[
edit
]
Bagian ini harus dibaca oleh semua orang yang berminat menjadi Penerjemah dan editor.
Ini adalah terjemahan tangan kedua (Second-Hand) dari terjemahan Bahasa Inggris. Bagi yang ingin meninjau ulang dari Bahasa Jepang akan sangat kami hargai. Jika anda punya komentar, saran terjemahan atau ingin tahu perkembangan proyek ini, silahkan kunjungi Feedback Thread
Pendaftaran
[
edit
]
Siapapun yang ingin dan bersedia untuk menerjemahkan serial Golden Time ini, diharapkan mendaftarkan diri.
Format Standar
[
edit
]
Semua Chapter yang diedit harus mengacu pada:
Nama - Terjemahan standar untuk nama karakter
Updates (Kabar Terbaru)
[
edit
]
14 April 2015 - Golden Time Volume 2 : The Answer Is Yes - Catatan Penerjemah Selesai
28 Juni 2014 - Golden Time Volume 1 : A Blackout in Spring - Chapter 1 Selesai
28 Januari 2014 - Golden Time Volume 1 : A Blackout in Spring - Prologue Selesai
Serial Golden Time oleh Yuyuko Takemiya

[

edit

]
The Golden Time series by Yuyuko Takemiya
Volume 1 : A Blackout in Spring
[
edit
]
Volume 2 : The Answer is Yes
[
edit
]
Volume 3 : Masquerade
[
edit
]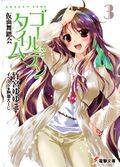 Volume 4 : Don't Look Back
[
edit
]
Volume 5 : The Ghost of Summer, Japanese Summer
[
edit
]
Volume 6 : To Memories of Other Lives
[
edit
]
Volume 7 : I'll Be Back
[
edit
]
Volume 8 : Winter Journey
[
edit
]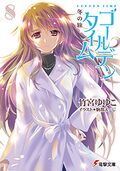 Spinoff : Mr. Two Dimensions Special
[
edit
]


Serah deh tpi gw harap lu mw lanjutin project ini... Makasih
Staf Proyek
[
edit
]
Penerjemah
[
edit
]
Editor/Pengamat Bacaan
[
edit
]
Semua editor yang fasih dalam berbahasa Inggris, dan berkeinginan untuk mendaftarkan diri dipersilahkan...