Hagure Yuusha no Aesthetica
From Baka-Tsuki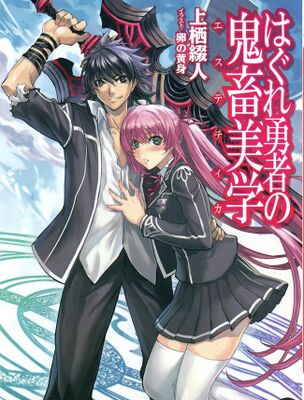 Hagure Yūsha no Aestetica (はぐれ勇者の鬼畜美学) is a light novel series written by Tetsuto Uesu and illustrated by Tamago no Kimi. The series has currently 11 volumes and is published by Hobby Japan. The series got an anime and aired between July - September of 2012 primarily covering Vol.1-3.
Story Synopsis
Summoned into an alternate world of Alayzard, Ousawa Akatsuki defeats the Demon King, bring forth peace back to the world, and under the Demon King's last request, takes the demon's only daughter back into Akatsuki's own world. It turns out that being summoned to a different world is somewhat of a common occurrence. Those who find themselves back home often come back with the ability to use magic, because of fearing people like Akatsuki they created the world organization Babel, a school to teach and keep tabs on the magic users. Akatsuki is able to enroll the Demon King's only daughter into Babel as his sister, Ousawa Miu. A new chapter for Akatsuki is about to begin in his own universe.
From Jcafe24
Character Introductions
Attention! Possible spoilers
Translation
Format Standards
Every Chapter (after editing) must conform to the general format guidelines.
Translators are asked to register which chapters they're working on
Feedback
If you enjoyed the translation, why don't you tell us in the Feedback thread
If you would like to show your appreciation to translators and editors for their efforts, please post in the Appreciation Thread.
Updates
July 19, 2014 - Volume 5 Chapter 1 Completed
May 31, 2014 - Volume 7 Chapter 1 Completed
May 30, 2014 - Volume 5 Chapter 2 Completed
April 13, 2014 - Volume 7 Epilogue Completed
April 6, 2014 - Volume 7 Chapter 4 Completed
March 31, 2014 - Volume 7 Chapter 3 Completed
March 28, 2014 - Volume 7 Chapter 2 Completed
March 10, 2014 - Volume 4 Chapter 4 & Epilogue Completed
March 8, 2014 - Volume 4 Chapter 3 Completed

Older updates can be found on the Hagure Yuusha no Aesthetica Updates page.
Hagure Yuusha no Aesthetica series by Tetsuto Uesu
Volume 2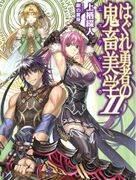 Volume 3
Volume 5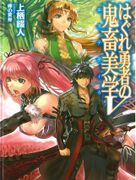 Volume 6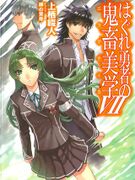 Volume 8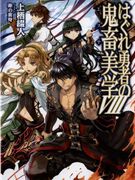 Volume 9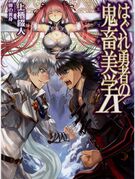 Volume 10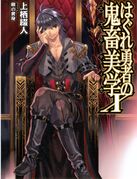 Volume 11
Project Staff
Supervisor:
Project Manager:
Translators
ACTIVE
INACTIVE
Editors
Recruiting Editors

ACTIVE
INACTIVE
Series Overview
はぐれ勇者の鬼畜美学 I (エステティカ) (HJ文庫) (鬼畜な勇者が異世界から帰ってきた!) (May 1, 2010 ISBN 978-4-7986-0042-0)
はぐれ勇者の鬼畜美学 II (エステティカ)(HJ文庫 う) (鬼畜な勇者に新たな刺客!!) (July 31, 2010 ISBN 978-4-7986-0104-5)
はぐれ勇者の鬼畜美学 III(エステティカ) (HJ文庫) (はぐれ勇者VS新・勇者) (November 1, 2010 ISBN 978-4-7986-0138-0)
はぐれ勇者の鬼畜美学 IV (エステティカ) (HJ文庫) (はぐれ勇者・暁月は再びアレイザードを救うことができるのか!?) (Feb 1, 2011 ISBN 978-4-7986-0180-9)
はぐれ勇者の鬼畜美学 V (HJ文庫 う) (魔王と化した暁月の真意とは?) (April 28, 2011 ISBN 978-4-7986-0225-7)
はぐれ勇者の鬼畜美学 VI (HJ文庫) (現実世界はさらに熱いぜ!!) (July 29, 2011 ISBN 978-4-7986-0264-6)
はぐれ勇者の鬼畜美学 VII (HJ文庫) (陰謀渦巻くバベル。その中心にいるのは?) (November 30, 2011 ISBN 978-4-7986-0321-6)
はぐれ勇者の鬼畜美学 VIII(HJ文庫) (バトル&バトル! 『京也編』最高潮!) (Feb 29, 2012 ISBN 978-4-7986-0359-9)
はぐれ勇者の鬼畜美学 IX (HJ文庫) (ついに『京也編』完結!) (June 29, 2012 ISBN 978-4-7986-0422-0)
はぐれ勇者の鬼畜美学 X (HJ文庫) (第3勢力に上り詰めた暁月の新章開幕!) (September 29, 2012 ISBN 978-4-7986-0473-2)
はぐれ勇者の鬼畜美学 XI (HJ文庫) (暁月が立ち上げた新団体ノアが動き出す) (Feb 28, 2013 ISBN 978-4-7986-0566-1)