Difference between revisions of "Kenshin no Keishousha"
From Baka-Tsuki
m

m

Line 116:
Line 116:
 

# 剣神の継承者 V (June 25, 2013) - ISBN 978-4-8401-5229-7

 

# 剣神の継承者 V (June 25, 2013) - ISBN 978-4-8401-5229-7

 
 
−

[[Category:MF Bunko J]]

+

[[Category:MF Bunko J]]
---
Revision as of 17:18, 3 August 2013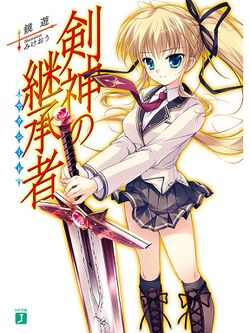 Kenshin no Keishousha (剣神の継承者, Divine Blade's Successor) is a light novel series written by Kagami Yuu and illustrated by Mikeō.
Published by MF Bunko J, the series currently has 5 volumes.
Story Synopsis
Tokyo Swordia, formerly known as Tokyo Metropolitan, has been ruled by the "Swordies" since the Third World War 70 years ago. These Swordies, natural-born swordswomen with an attraction to blades, more or less rule the country, and are considered upper-class members of society. In order to raise his own social status, Kurou, a human, begins attending an academy of swordsmanship, surrounding himself with Swordies on a daily basis. How will he fare in combat against those born to fight? (Synopsis taken from the manga)
Translation
Format Standards
Every Chapter (after editing) must conform to the general format guidelines.
Translators are asked to register which chapters they're working on
Feedback
If you liked this series, let us know on the forums!
Updates
July 16, 2013 - Volume 1 Prologue finished
July 26, 2013 - Volume 1 Chapter 1 finished
Kenshin no Keishousha series by Kagami Yuu
Volume 1

Volume 2
Volume 3
Volume 4
Volume 5
Project Staff
Translators
For information on what each translator is working on, please consult the Registration Page.
ACTIVE
INACTIVE
Hayashi (until volume 1 is completed)
Editors
Before you add your name here, read http://www.baka-tsuki.org/project/index.php?title=Format_guideline, sub-article 5 under editors, and take approval from the project supervisor.
Series Overview
剣神の継承者 I (May 25, 2012) - ISBN 978-4-8401-4578-7
剣神の継承者 II (August 24, 2012) - ISBN 978-4-8401-4680-7
剣神の継承者 III (November 22, 2012) - ISBN 978-4-8401-4871-9
剣神の継承者 IV (March 25, 2013) - ISBN 978-4-8401-5140-5
剣神の継承者 V (June 25, 2013) - ISBN 978-4-8401-5229-7