Mahouka Koukou no Rettousei PL
Jump to navigation
Jump to search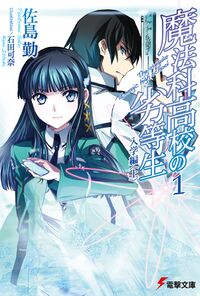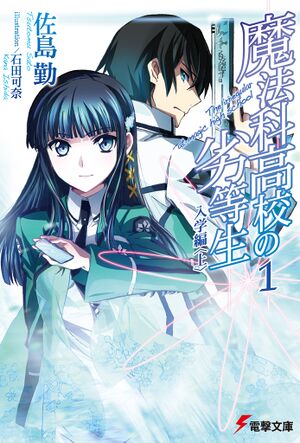 "Mahouka Koukou no Rettousei", dosłownie znaczy "Słabo sprawujący się uczeń w Magicznym Liceum", ale znane jest również jako "Nieregularność w Magicznym Liceum", jest japońską powieścią młodzieżową, której autorem jest Satou Tsutomu z ilustracjami wykonanymi przez Ishidę Kanę. "Mahouka..." została wydana przez ASCII Media Works pod szyldem Dengeki Bunko. Jest to druga powieść po "Sword Art Online", która została skomercjalizowana i wydana przez Dengeki w czerwcu 2011 roku. Szóstego października 2013 roku zapowiedziana została adaptacja anime przez studio Madhouse.

Powieść jest również dostępne w następujących językach::
Magia.
Nie jest produktem legend ani baśni, lecz czymś, co stało się technologią rzeczywistości od czasów nieznanych jeszcze człowiekowi.

Nadprzyrodzona Moc stała się technologią usystematyzowaną przy pomocy magii, podczas gdy magia stała się zdolnością techniczną, a osoba używająca Nadprzyrodzonej Mocy została nazwana Magicznym Technikiem.
Magiczni Technicy (w skrócie Magicy) kształceni są dzięki Magicznym Liceom oraz Uniwersytetom.

Jest to historia o upośledzonym starszym bracie, słabym w magii, ale dobrym w nauce oraz perfekcyjnej młodszej siostrze, ambitnej i dobrej we wszystkim.
Tłumaczenie i edycja
[
edit
]
Rejestracja
[
edit
]
Osoby chcące pomóc przy projekcie, powinny najpierw skontaktować się z którąś z osób odpowiedzialną za projekt poprzez forum toteż inna drogą komunikacji i zarejestrować się przy rozdziale, przy którym chcą pomóc.
Standard Formatu
[
edit
]
Wszystkie rozdziały (po edycji) muszą być dostosowane do ustalonych reguł: General Format/Style Guideline
Aktualizacje
[
edit
]
06.10.2013 - Utworzono stronę projektu
Seria Mahouka Koukou no Rettousei stworzona przez Satou Tsutomu

[

edit

]
Tom 1 - Początek szkoły (1)
[
edit
]
Rozdział 2 (2/4)
Rozdział 3
Rozdział 4
Rozdział 5
Słowo od autora
Spóźniona ulubiona powieść
Ekipa Projektu
[
edit
]
Tłumacze
[
edit
]
Aktywni:
Nieaktwyni:
Korektorzy
[
edit
]
Dotychczas wydano
[
edit
]
魔法科高校の劣等生(1)入学編<上> (Lipiec, 2011 - ISBN 978-4048705974)
魔法科高校の劣等生(2)入学編<下> (Sierpień, 2011 - ISBN 978-4048705981)
魔法科高校の劣等生(3)九校戦編<上> (Listopad, 2011 - ISBN 978-4048709989)
魔法科高校の劣等生(4)九校戦編<下> (Grudzień, 2011 - ISBN 978-4048709996)
魔法科高校の劣等生(5)夏休み編+1 (Kwiecień, 2012 - ISBN 978-4-04-886522-7)
魔法科高校の劣等生(6)横浜騒乱編〈上〉 (Lipiec, 2012 - ISBN 978-4-04-886700-9)
魔法科高校の劣等生(7)横浜騒乱編〈下〉 (Wrzesień, 2012 - ISBN 978-4-04-886701-6)
魔法科高校の劣等生(8)追憶編 (Grudzień, 2012 - ISBN 978-4-04-891158-0)
魔法科高校の劣等生(9)来訪者編<上> (Marzec, 2013 - ISBN 978-4-04-891423-9)
魔法科高校の劣等生(10)来訪者編<中> (Czerwiec, 2013 - ISBN 978-4-04-891609-7)
魔法科高校の劣等生(11)来訪者編<下> (Sierpień, 2013 - ISBN 978-4-04-891610-3)
魔法科高校の劣等生(12)ダブルセブン編 (Październik, 2013)