Mimizuku to Yoru no Ou ~Brazilian Portuguese~
Jump to navigation
Jump to search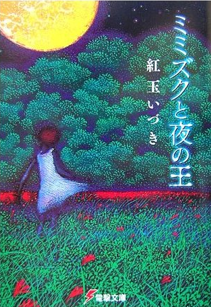 A série Mimizuku to Yoru no Ou também está disponível nas seguintes línguas:
Mimizuku to Yoru no Ou (ミミズクと夜の王 Mimizuku e o Rei da Noite) é uma light novel escrita por Kougyoku Izuki, e é seu primeiro trabalho. Ganhou o grande prêmio do 13º concurso de romance Dengeki. O livro possui apenas um volume, mas o autor escreveu uma pseudo-sequência com o título de "A Princesa que respirava veneno e a Pedra da Estrela".
Sinopse
Mimizuku, uma pequena garota com correntes em seus pulsos e tornozelos, e o número 332 escrito em sua testa, vaga pela Floresta da Noite, querendo ser comida por algum monstro. No entanto, quando o rei dos monstros, o misterioso e bonito "Rei da Noite", se recusa a comê-la, ela tenta achar um jeito para convencê-lo.
Tradução
Formato Padrão (Todos os capítulos, depois de editados, deverão estar seguindo as regras abaixo).
Para todos aqueles que desejam traduzir algum capítulo de Mimizuku to Yoru no Ou, façam o registro nessa página.
Atualizações
11 de julho, 2013 - Capítulo 5 completo.
21 de maio, 2013 - Capítulo 4 completo.
22 de março, 2013 - Capítulo 3 completo.
08 de janeiro, 2012 - Capítulo 2 completo
22 de dezembro, 2011 - Epílogo e Palavras da autora completos
13 de dezembro, 2011 - Comentário completo
20 de Julho, 2011 - Prólogo e Capítulo 1 adicionados
19 de Julho, 2011 - Página criada
Mimizuku to Yoru no Ou por Kougyoku Izuki
Mimizuku e o Rei da Noite
Capítulo 6 - O Selo do Rei da Noite
Capítulo 7 - O Cavaleiro e a Donzela
Capítulo 8 - Libertação II
Staff do Projeto
Administrador do Projeto:
Supervisor do Projeto: Saymon
Tradutores
ATIVOS
INATIVOS
Editores
Series Overview
ミミズクと夜の王, ISBN 978-4840237154, Fevereiro de 2007