Nogizaka Haruka no Himitsu
Jump to navigation
Jump to search
Project Status: HALTED

This project has not been updated in the past 12 months.
Help revive this project by joining the translation team! — Learn more about Baka-Tsuki activity status.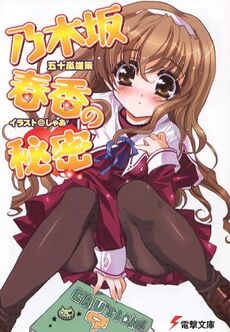 Nogizaka Haruka no Himitsu (乃木坂春香の秘密, lit. Haruka Nogizaka's Secret) is a Japanese light novel series by Yūsaku Igarashi, with illustrations by Shaa.
You can also read the Nogizaka Haruka no Himitsu novel in the following languages:
Story Synopsis
The main character, Ayase Yuuto is your average boy without any special traits. He attends a private high school where he is one of the many and doesn't stand out, until, one day, he happens to discover the secret of the school princess Nogizaka Haruka, and his life changes drastically from there on.
Haruka, the school's most unattainable girl, is so idolized in the school for both, her looks and intelligence, that her classmates nickname her Nuit Étoile (The Silver Star of the Night) and Lumière du Clavier (The Shining Princess on the Piano). However, nobody knows that it is only a fake role she assumes to hide her true nature. In reality she is a die-hard fan of anime, manga, and otaku culture.
Translation
Those who wish to contribute are asked to first notify a supervisor beforehand.
Translators are asked to register which chapters they're working on
Format Standards
Every Chapter (after editing) must conform to the general format guidelines.
Updates
April 19, 2011 - Volume 2 Chapter 7 completed.
April 1, 2011 - Volume 2 Novel Illustrations completed.
March 22, 2011 - Volume 2 Chapter 6 completed.
February 7, 2011 - Volume 2 Chapter 5 completed.
December 20, 2010 - Volume 1 Author's Notes completed.
December 20, 2010 - Volume 1 Epilogue completed.
December 17, 2010 - Volume 1 Chapter 4 completed.
December 25, 2009 - Volume 1 Chapter 3 completed.
August 2, 2009 - Volume 1 Chapter 2 completed.
July 18, 2009 - Volume 1 Chapter 1 completed.
Nogizaka Haruka no Himitsu by Yūsaku Igarashi
Volume 2
Chapter 8 (incomplete)
Epilogue
Author's Notes
Volume 3
Novel Illustrations
Chapter 9
Chapter 10
Chapter 11
Chapter 12
Author's Notes
Teaser 1, Teaser 2, Teaser 3, Teaser 4, Teaser 5, Teaser 6 and Teaser 7 forum translation by ShadowZeroHeart
Project Staff
Translators
All translators who are interested all welcome.
Editors
All editors who speak English proficiently are welcomed.
Series Overview
Volume 01 - Released 2004.10.10 ISBN 4-8402-2830-2
Volume 02 - Released 2005.06.10 ISBN 4-8402-3059-5
Volume 03 - Released 2005.12.10 ISBN 4-8402-3234-2
Volume 04 - Released 2006.06.10 ISBN 4-8402-3447-7
Volume 05 - Released 2006.12.10 ISBN 4-8402-3634-8
Volume 06 - Released 2007.06.10 ISBN 978-4-8402-3880-9
Volume 07 - Released 2007.12.10 ISBN 978-4-8402-4115-1
Volume 08 - Released 2008.07.10 ISBN 978-4-04-867127-9
Volume 09 - Released 2008.12.10 ISBN 978-4-04-867419-5
Volume 10 - Released 2009.06.10 ISBN 978-4-04-867841-4
Volume 11 - Released 2009.12.10 ISBN 978-4-04-868198-8
Volume 12 - Released 2010.07.10 ISBN 978-4-04-868651-8
Volume 13 - Released 2010.12.10 ISBN 978-4-04-870126-6
Volume 14 - Released 2011.07.10 ISBN 978-4-04-870594-3
Volume 15 - Released 2012.01.10 ISBN 978-4-04-886253-0
Volume 16 - Released 2012.07.10 ISBN 978-4-04-886626-2