Onii-chan Dakedo Ai Sae Areba Kankei Nai yo ne—
Jump to navigation
Jump to search
Project Status: HALTED

This project has not been updated in the past 12 months.
Help revive this project by joining the translation team! — Learn more about Baka-Tsuki activity status.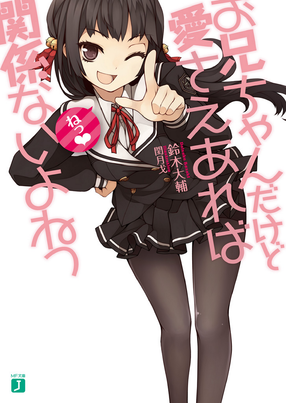 The light novel series Onii-chan Dakedo Ai Sae Areba Kankei Nai yo ne— (お兄ちゃんだけど愛さえあれば関係ないよねっ, short "OniAi", lit. "He is my brother, but as long as we're in love it doesn't matter, right—") is written by Suzuki Daisuke, illustrated by Gekka Uruu and published by Media Factory under the imprint MF Bunko J. To this day, it consists of 11 volumes. It also has two manga and one anime adaption. The anime, consisting of 12 episodes, aired from October 5th to December 21st, 2012.
Story Synopsis
After six years of living apart due to the death of their parents, the Himenokouji twins, Akito and Akiko, are finally reunited when Akito desires to live as a family once more. Even though things are fine at first, Akiko begins to express her incestuous love for her older brother, who only sees her as his little sister.
Updates
Older updates can be found here.
Formalities
Registration
Those who wish to contribute are asked to notify the project manager beforehand.
Translators are asked to register which chapters they're working on.
Format Standards
Every chapter must after editing conform to the general format guidelines.
Changes to Page
Please do not make any changes to this site without asking the project manager. There's specific code on this page, which can be harmed by your edits.

Volume 5
Volume 6
Volume 7
Volume 8
Volume 9
Volume 10
Volume 11
Project Staff
Supervisor:
Project Manager:
Translators
ACTIVE
INACTIVE
Editors
Editors are to show some work on the series before getting approved by the manager.
ACTIVE
INACTIVE
Series Overview
お兄ちゃんだけど愛さえあれば関係ないよねっ (December 21st, 2010) ISBN 978-4840136761
お兄ちゃんだけど愛さえあれば関係ないよねっ2 (March 22nd, 2011) ISBN 978-4840138550
お兄ちゃんだけど愛さえあれば関係ないよねっ3 (June 23rd, 2011) ISBN 978-4840139410
お兄ちゃんだけど愛さえあれば関係ないよねっ4 (October 22nd, 2011) ISBN 978-4840142687
お兄ちゃんだけど愛さえあれば関係ないよねっ5 (February 23rd, 2012) ISBN 978-4840143899
お兄ちゃんだけど愛さえあれば関係ないよねっ6 (May 24th, 2012) ISBN 978-4840145817
お兄ちゃんだけど愛さえあれば関係ないよねっ7 (September 22nd, 2012) ISBN 978-4840148153
お兄ちゃんだけど愛さえあれば関係ないよねっ8 (October 24th, 2012) ISBN 978-4840148467
お兄ちゃんだけど愛さえあれば関係ないよねっ9 (March 22nd, 2013) ISBN 978-4840151368
お兄ちゃんだけど愛さえあれば関係ないよねっ10 (September 21st, 2013) ISBN 978-4840154192
お兄ちゃんだけど愛さえあれば関係ないよねっ11 (March 22nd, 2014) ISBN 978-4040663876