Queen's Gate
Jump to navigation
Jump to search
Project Status: STALLED

This project has not been updated in the past 6 months.
Help revive this project by joining the translation team! — Learn more about Baka-Tsuki activity status.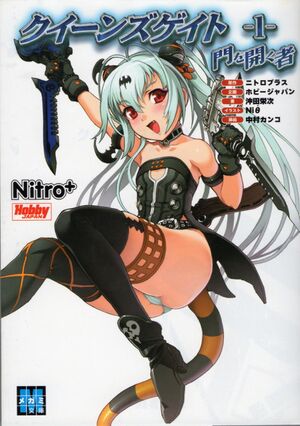 Queen's Gate (クイーンズゲイト) is a light novel series written by Eiji Okita with illustrations by Niθ. It is published by Hobby Japan under their Megami Bunko imprint. The series has 3 volumes.
Story Synopsis
[
edit
]
The adventures of the Treasure Hunter Alice, specialized in OOPArts, who in the middle of her usual competition with her rival Dorothy, discovers there's a mysterious organization also interested in collecting the artifacts. And they seem to think those are the key to opening the "Queen's Gate", the last device Alice's mother was investigating before she suddenly vanished...
Synopsis from [1]
Translation
[
edit
]
Those who wish to contribute are asked to first notify a supervisor beforehand.
Translators are asked to register which chapters they're working on
Format Standards
[
edit
]
Every chapter (after editing) must conform to the general format guidelines.
If you enjoyed the teaser, why don't you tell us in the Feedback Thread.
Updates
[
edit
]
May 07th, 2015

Volume 1 Epilogue - Journey to a Different World & Volume 1 Afterword completed + Volume 1 completed

April 16th, 2015

Volume 1 Chapter 4 - Tentacle God's Island completed

January 22th, 2015

Volume 1 Chapter 3 - Fierce Fighting at the Academy completed

November 27th, 2014

Volume 1 Chapter 2 - Reliable Partner? completed

October 10th, 2014

Volume 1 Prologue - Treasure at the Undersea Temple & Chapter 1 - Irukinuf's Songstress completed
The Queen's Gate series by Eiji Okita
[
edit
]
Volume 1 - The Gate Opener (Full Text)

[

edit

]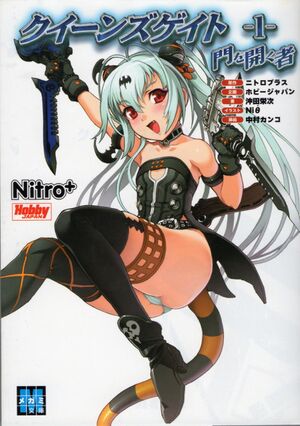 Volume 2 - The Time Traveler
[
edit
]
Novel Illustrations
Prologue
Chapter 1
Chapter 2
Interlude
Chapter 3
Interlude
Chapter 4
Interlude
Epilogue
Afterword
Volume 3 - The Gate Protector
[
edit
]
Novel Illustrations
Prologue
Chapter 1
Chapter 2
Chapter 3
Chapter 4
Epilogue
Afterword
Project Staff
[
edit
]
Project Administrator:
Project Manager: leecherboy
Translators
[
edit
]
All translators who are interested are welcome.
Editors
[
edit
]
All editors who speak English proficiently are welcomed.
Series Overview
[
edit
]
2009年4月1日初版発行 ISBN 978-4-0590-3532-9
2009年5月1日初版発行 ISBN 978-4-0590-3534-3
2009年7月1日初版発行 ISBN 978-4-0590-3535-0
Project Status
[
edit
]
Teaser