Sayonara Piano Sonata
Jump to navigation
Jump to search
Project Status: HALTED

This project has not been updated in the past 12 months.
Help revive this project by joining the translation team! — Learn more about Baka-Tsuki activity status.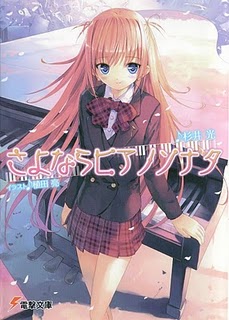 Sayonara Piano Sonata' (さよならピアノソナタ, Goodbye Piano Sonata) is a light novel series by Sugii Hikaru and illustrated by Ueda Ryou. The series has currently 5 published novels.
Sayonara Piano Sonata is available in the following languages:
Story Synopsis
[
edit
]
Enter Hikawa Naomi, son of a music critic and Ebisawa Mafuyu, a young prodigy pianist who suddenly dissapeared from the music world. Together they formed a rockband with members involved in classical and rock music.
Translation
[
edit
]
Format Standards
[
edit
]
Every Chapter (after editing) must conform to the general format guidelines.
Feedback
[
edit
]
If you enjoyed the teasers, why don't you tell us in the Feedback thread
Updates
[
edit
]
The Sayonara Piano Sonata series by Sugii Hikaru

[

edit

]
Chapter 2: If There's No Name on the Wing
Chapter 3: Stereophonic Love
Chapter 4: The Final Interview
Project Staff
[
edit
]
Supervisor:
Project Manager:
Translators
[
edit
]
ACTIVE
INACTIVE
Editors
[
edit
]
ACTIVE
INACTIVE
Series Overview
[
edit
]
さよならピアノソナタ Volume 1: ISBN 978-4840240710 (published November 2007)
さよならピアノソナタ Volume 2: ISBN 978-4840241953 (published March 10, 2008)
さよならピアノソナタ Volume 3: ISBN 978-4048671828 (publishes August 10, 2008)
さよならピアノソナタ Volume 4: ISBN 978-4048674294 (published December 5, 2008)
さよならピアノソナタ―encore pieces: ISBN 978-4048680783 (published October 10, 2009)