Seirei Tsukai no Blade Dance - Français
Jump to navigation
Jump to search
| | |
| --- | --- |
| | This Teaser Project has not yet reached Full Project status requirements. |
Help this project out by joining the translation team! — Learn more about Full Project Approval Requirements
Note: This Project has been classified as Stalled.




Please see Template:STALLED for further information about this classification.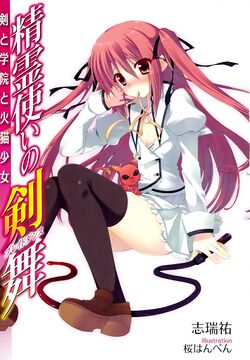 Seirei Tsukai no Blade Dance (精霊使いの剣舞, Seirei Tsukai no Kenbu, Blade Dance of Elementaler) est une série de light novels écrite par Yuu Shimizu (清水 ユウ). Les 13 premiers volumes sont illustrés par Sakura Hanpen (桜 はんぺん, Sakura Hanpen). Suite à des problèmes de santé de l'illustrateur, Nimura Yuuji (Leviathan of the Covenant) prend sa succession à partir du volume 14. Elle est publiée chez Media Factory, sous MF Bunko J.
Au 1er août 2015, la série compte 14 volumes.
Durant l'été 2014, elle a fait l'objet d'un anime de 12 épisodes produit par TNK couvrant les événements des volumes 1 à 3.
Seirei Tsukai no Blade Dance existe aussi dans les langues suivantes :

Important : Ceux qui souhaitent traduire ou éditer le projet doivent IMPÉRATIVEMENT lire la partie "Traduction".
Synopsis
Seule une jeune fille pure peut avoir le privilège de former un pacte avec un esprit.
Les jeunes filles venant de familles nobles sont réunies à l'Académie Spirituelle Areishia, où elles reçoivent un entraînement et une instruction d'élite pour devenir des Élémentalistes. Kamito, un garçon, surprend par accident une fille, Claire, alors qu'elle prenait un bain. Il finit par sceller un pacte avec l'esprit qu'elle voulait.
En effet, Kamito est un Élémentaliste, un être anormal dont l'existence était supposée être impossible jusqu'à maintenant.
Tu m'as pris... mon esprit... assume tes responsabilités !
Hein ?
Tu seras mon esprit contractuel !
Jusqu'où la destinée de Kamito le mènera ?
Règles de Traduction
Cette partie doit être lue par tous les traducteurs et éditeurs du projet.
Les traducteurs doivent s'enregistrer sur le lien ci-dessus.
Forme
Chaque chapitre doit se conformer aux règles ci-dessous après édition :
La traduction est de l'Anglais au Français.
Feedback - Forum
Une remarque ou un remerciement ? Vous voulez participer au projet ? Voir le sujet sur le forum.
Remerciements à Kazugaya d'Otaku-Attitude pour le teaser.
Actualités
22 Avril 2013
23 Mai 2014
28 Mai 2014
14 Juillet 2014
Seirei Tsukai no Blade Dance par Yuu Shimizu
Tome 1 - L'Épée, l'Académie et la Féline des Enfers
Tome 2 - Lost Queen
Tome 3 - Promesse du Vent
Tome 4 - Blade Dance
Tome 5 - Chasseur de Démons
Tome 6 - Souvenir d'un Esprit Ténébreux
Tome 7 - Le Meilleur Blade Dancer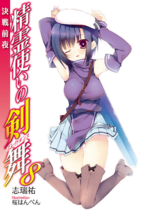 Tome 8 - La Nuit avant le Grand Final
Tome 9 - Cross Fire
Tome 10 - Le Réveil du Roi-Démon
Staff du projet
Le staff est validé par le superviseur ou le manager du projet.
Superviseur : ???
Manager : ???
Traducteurs
Seuls les traducteurs actifs peuvent traduire le projet.
Actifs :
Retirés :
Disparus :
Éditeurs / Relecteurs
Actifs :
Parutions
Tome 1 - 剣と学院と火猫少女 (24 Décembre 2010) - ISBN 978-4-8401-3675-4
Tome 2 - ロスト クイーン (25 Février 2011) - ISBN 978-4-8401-3824-6
Tome 3 - 風の誓約 (25 Mai 2011) - ISBN 978-4-8401-3930-4
Tome 4 - 精霊剣舞祭 (25 Août 2011) - ISBN 978-4-8401-4202-1
Tome 5 - 魔王殺しの聖剣 (25 Novembre 2011) - ISBN 978-4-8401-4299-1
Tome 6 - 追憶の闇精霊 (24 Février 2012) - ISBN 978-4-8401-4386-8
Tome 7 - 最強の剣舞姫 (25 Mai 2012) - ISBN 978-4-8401-4580-0
Tome 8 - 決戦前夜 (24 Août 2012) - ISBN 978-4-8401-4684-5
Tome 9 - クロス ファイア (22 Novembre 2012) - ISBN 978-4-8401-4874-0
Tome 10 - 魔王覚醒 (25 Février 2013) - ISBN 978-4-8401-4983-9
Tome 11 - 精霊王暗殺 (25 Juin 2013) - ISBN 978-4-8401-5225-9
Seirei Tsukai no Blade Dance Volume 12 - 封剣解放 (November 25, 2013) ISBN 978-4-0406-6075-2
Seirei Tsukai no Blade Dance Volume 13 - 氷華の女王 (April 25, 2014) ISBN 978-4-0406-6383-8
Seirei Tsukai no Blade Dance Volume 14 - 帝都動乱 (unknown so far) ISBN 978-4-0406-6915-1