Sekai no Owari no Encore
Jump to navigation
Jump to search
Project Status: HALTED

This project has not been updated in the past 12 months.
Help revive this project by joining the translation team! — Learn more about Baka-Tsuki activity status.
Sekai no Owari no Encore (世界の終わりの世界録), is a light novel series written by Kei Sazane and illustrated by Haruaki Fuyuno. The series has a manga adaptation by Ryu Usui.
Story Synopsis
The valuable treasure, the "Encore" which was left by the legendary Eleline the Brave Hero, has the recording of the end of the world and the reincarnation of the world. The countries and parties all over the world are searching for the location of its whereabouts; the age to fight for the Encore. The boy called Ren who wants to become a MASTERKnight has no talent in wielding swords despite looking exactly like Eleline the Brave Hero, he has been having a lifestyle where people taunts him as the "Fake Brave Hero". The one that appears in front of him is the legendary Dragon Princess Kyelse, who had woken up from her seal. She mistook Ren for Eleline. Though she gets disappointed since he simply looked like him, she later finds out a hidden potential in him. And she invites him to the journey to find the Encore together with the Archangel Fear and the Demon Lord Elise that saved the world before. "Do you want to come with me?". —This is the prelude of wild excitement played by the heroes. The boy known as the fake Brave Hero cross paths with the legend now!
Series Information
Genre: Fantasy + Adventure + Action
Original Title: 世界の終わりの世界録<アンコール>
Original Title(Romaji): Sekai no Owari no Sekairoku<Encore>
Translated Title: Encore of the World's End
Author: Kei Sazane
Illustrator: Haruaki Fuyuno
Publisher: MF Bunko J
Series Status: Complete
Published Volumes: 1-10
Character Introductions
Translation
The series is not currently seeking any translators. Editing of typos and grammar is welcome.
The series is not currently seeking any translators (this may change in future). You can still view contribution credits and possible progress through the registration page.
Format Standards
Every Chapter (after editing) must conform to the general format guidelines.
All edited translations are to be in British English.
Feedback
You can share your thought on the series in the forum.
Updates
July 18, 2014 - Teaser posted on forum (Prologue)
July 21, 2014 – Page created. Volume 1 initiated.

July 26, 2014 - Record.1 completed
July 31, 2014 - Record.2 completed
September 06, 2014 - Afterword completed
February 21, 2015 - Record.3 completed
March 05, 2015 - Record.4 completed
March 12, 2015 - Record.5 completed
March 13, 2015 - Interval + Epilogue completed

March 13, 2015 - Volume 1 completed
May 9, 2015 – Volume 2 initiated. Prologue completed

February 21, 2016 - Record.1 completed
March 3, 2016 - Record.2 completed
Older updates can be found on the Archive.
Recent changes
Name changeː Elline → Eleline

Reasonː Confirmed spelling by the author
The Sekai no Owari no Encore series by Sazane Kei
Volume 1 — The Knight of Reincarnation (Full Text)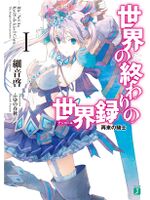 Volume 2 — Calra, the Dragon Lord of Gloria (Full Text)
Volume 3 — Resflaze, the Goddess of Seraphim
Volume 4 — Zelblight, the Overlord of Maverick
Prologueː The Conversation with the Goddess
Record.1ː A Short Rest At the Holy Ground — The Princess, the Holy Woman, and the Fake Brave Hero —
Secret Recordː Prognosticators
Record.2ː The Supreme Metropolitan
Record.3ː The Break In, and Then the Crash On
Record.4ː Those Who Cannot Be Touched
Record.5ː Zelblight, the Overlord of Maverick
Record.6ː The Requirements of a Brave Hero
Continuedː Those Who Were Left Behind
Afterword
Volume 5 — Verusalem, the Demon King of Hades
Colour Pages
Prologue
Record.1ː
Record.2ː
Interval
Record.3ː
Record.4
Intervalː
Record.5ː
Record.6ː
Intervalː
Continuedː
Afterword
Volume 6 — Fiora, the Eternal Keeper of Spirit
Prologue
Record.1ː
Interval
Record.2ː
Intervalː
Record.3ː
Record.4ː
Record.5ː
Record.6ː
Record.7ː
Continuedː
Afterword
Volume 7 — Id, the Tyrant of Mythology Era
Prologue
Record.1ː
Record.2ː
Record.3ː
Record.4ː
Intermissionː
Record.5ː
Record.6ː
Epilogueː
Afterword
Volume 8 — Canaan, the Wailing Chrono-spirit
Prologue
Record.1ː
Record.2ː
Record.3ː
Record.4ː
Record.5ː
Record.6ː
Intermissionː
Epilogueː
Afterword
Gaiden Stories
Dragon Revive
Angel Diary
Demon Quest
Series Overview
Sekai no Owari no Encore.1 The Knight of Reincarnation. (世界の終わりの世界録<アンコール>1 再来の騎士 (July 25, 2014, ISBN 978-4040669229))
Sekai no Owari no Encore.2 Calra, the Dragon Lord of Gloria. (世界の終わりの世界録<アンコール>2 極光の竜帝 (October 25, 2014, ISBN 978-4040671253))
Sekai no Owari no Encore.3 Resflaze, the Goddess of Seraphim. (世界の終わりの世界録<アンコール>3 熾天の女神 (February 25, 2015, ISBN 978-4040674049))
Sekai no Owari no Encore.4 Zelblight, the Overlord of Maverick. (世界の終わりの世界録<アンコール>4 異端の覇王 (June 25, 2015, ISBN 978-4040676913))
Sekai no Owari no Encore.5 Verusalem, the Demon King of Hades. (世界の終わりの世界録<アンコール>5 降魔の大皇 (October 23, 2015, ISBN 978-4040679426))
Sekai no Owari no Encore.6 Fiora, the Eternal Keeper of Spirit. (世界の終わりの世界録<アンコール>6 終焉の精霊 (February 25, 2016 ISBN 978-4040681139))
Sekai no Owari no Encore.7 Id, The Tyrant of Mythology Era. (世界の終わりの世界録<アンコール>7 神代の暴君 (May 25, 2016 ISBN 978-4040683423))
Sekai no Owari no Encore.8 Canaan, The Wailing Chrono-spirit. (世界の終わりの世界録<アンコール>8 慟哭の神霊 (September 23, 2016 ISBN 978-4040686332))