Spice & Wolf - Français
From Baka-Tsuki
Note: This Project has been declared as Abandoned!
and was taken down.




Please see Template:Abandoned for further information about this classification.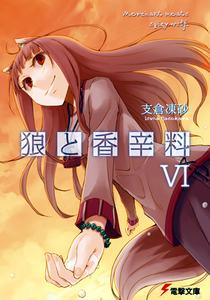 Spice & Wolf (狼と香辛料, Ôkami to Kôshinryô) est une série de light novels écrite par Isuna Hasekura (支倉 凍砂) et illustrée par Jû Ayakura (文倉 十). Elle est terminée et publiée chez ASCII Media Works, sous Dengeki Bunko. Avant sa publication, la série avait reçu le Prix d'Argent du Dengeki Novel Prize, en 2005.
L'animé a été adapté en deux saisons. Une première saison de 13 épisodes, réalisée par Imagin, a été diffusée de Janvier à Mars 2008. Une seconde saison de 13 épisodes, réalisée par Brain's Base, a été diffusée de Juillet à Septembre 2009.
Editions Ofelbe ont annoncé le 10 septembre 2014 la licence française de la série.

Spice & Wolf existe aussi dans les langues suivantes :
Synopsis
Ôkami to Kôshinryô nous conte l'histoire d'Horo, une divinité perdue dans un monde qui n'a plus besoin d'elle, et de Lawrence, un simple marchand qui trouva cette dernière à l'arrière de sa carriole, peu après son départ d'un des multiples villages qu'il est amené à visiter pour le bien de son travail.
Ce petit couple au caractère bien différent apprendra petit à petit et au fil de leur pérégrination à mieux se connaître, et les deux dispenseront au spectateur de précieux conseils sur les lois qui régissent le marchandage dans ce monde moyenâgeux.
Derrière ce voyage tranquille se cache pourtant bien un motif davantage lié à la jeune femme louve : cette dernière souhaite en effet gagner les terres du nord, étant à la fois son lieu de destination et son lieu de naissance... (Tiré d'Animeka)
Parutions
Japonaises
Spice & Wolf (10 février 2006) - ISBN 978-4-84-023302-0
Spice & Wolf II (10 juin 2006) - ISBN 978-4-84-023451-5
Spice & Wolf III (10 octobre 2006) - ISBN 978-4-84-023588-0
Spice & Wolf IV (10 février 2007) - ISBN 978-4-8402-3723-9
Spice & Wolf V (10 août 2007) - ISBN 978-4-8402-3933-2
Spice & Wolf VI (10 décembre 2007) - ISBN 978-4-84-024114-7
Spice & Wolf VII - Side Colors (10 février 2008) - ISBN 978-4-8402-4169-4
Spice & Wolf VIII - Town of Strife 1 (10 mai 2008) - ISBN 978-4-04-867068-5
Spice & Wolf IX - Town of Strife 2 (10 septembre 2008) - ISBN 978-4-04-867210-8
Spice & Wolf X (10 février 2009) - ISBN 978-4-04-867522-2
Spice & Wolf XI - Side Colors II (10 mai 2009) - ISBN 978-4-04-867809-4
Spice & Wolf XII (10 août 2009) - ISBN 978-4-04-867933-6
Spice & Wolf XIII - Side Colors III (10 novembre 2009) - ISBN 978-4-04-868140-7
Spice & Wolf XIV (10 février 2010) - ISBN 978-4-04-868326-5
Spice & Wolf XV - Solar Gold Coin 1 (10 septembre 2010) - ISBN 978-4-04-868829-1
Spice & Wolf XVI - Solar Gold Coin 2 (10 février 2011) - ISBN 978-4-04-870265-2
Spice & Wolf XVII - Epilogue (10 juillet 2011) - ISBN 978-4-04-870685-8
Françaises
Spice & Wolf (12 mars 2015) - ISBN 978-2-37-302001-4