Vamp!
Jump to navigation
Jump to search
Vamp! (ヴぁんぷ!) is a Japanese light novel series written by Ryohgo Narita (成田良悟), author of Baccano and Durarara!!, and illustrated by Katsumi Enami (エナミカツミ). The series is ongoing with 5 volumes.
Vamp! is also aviable in the following Languages:
Story Synopsis
[
edit
]
A comedic dark fantasy about vampire clans, a vampire princess, and the man who hunts them!
"Dear ladies and gentlemen of Japan! I apologize for asking such a mundane question, but do you all believe in vampires?"
"I beg your pardon. It seems I'm a bit tardy in identifying myself. My name is Gerhard von Valdstein. I am a vampire, entrusted with the Island of Growerth and bestowed with the title of 'viscount.' Instead of introducing myself, I thought I might recount the story of a disturbance which occurred on my island. Or might I say, please allow me to tell you since I have some time on my hands."
"Whether you believe my story or not, I'm sure it is as clear as daylight that I am not a person. At any rate, my body is..."
Translations
[
edit
]
Translations and editing by Untuned Translations
Updates
[
edit
]
May 19, 2014 - Volume 5 Complete
The Vamp! series by Ryohgo Narita

[

edit

]
All links below are external links to Untuned Translations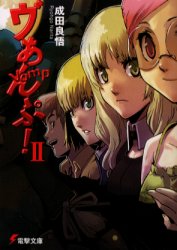 All links below are external links to Untuned Translations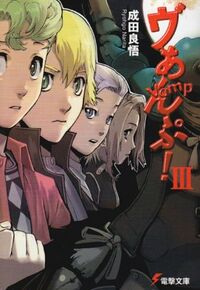 All links below are external links to Untuned Translations
All links below are external links to Untuned Translations
All links below are external links to Untuned Translations
Project Staff
[
edit
]
Project Administrator:
Project Supervisor:
Translators
[
edit
]
Editors
[
edit
]
Series Overview
[
edit
]
《ヴぁんぷ!》, 2004-05, ISBN 978-4-8402-2688-2
《ヴぁんぷ!II》, 2005-04, ISBN 978-4-8402-3060-5
《ヴぁんぷ!III<上> ルトニを車窓から》, 2005-8, ISBN 978-4-8402-3128-2
《ヴぁんぷ!IV》, 2008-10-08, ISBN 978-4-0486-7173-6
《ヴぁんぷ!V》, 2010-10, ISBN 978-4-0486-8928-1