Absolute Duo (Swedish)
From Baka-Tsuki
Project Status: HALTED

This project has not been updated in the past 12 months.
Help revive this project by joining the translation team! — Learn more about Baka-Tsuki activity status.
| | |
| --- | --- |
| | This Teaser Project has not yet reached Full Project status requirements. |
Help this project out by joining the translation team! — Learn more about Full Project Approval Requirements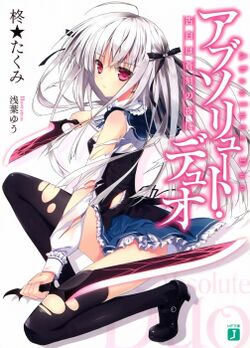 Absolute Duo (アブソリュート・デュオ) är en japansk light-novel som är skriven av Hiiragi★Takumi (柊★たくみ) och är illustrerad av Asaba Yuu (浅葉ゆう), publicerad av MF Bunko J. Absolute Duo serien är även tillgänglig på dem här språken:
Sammanfattning
[
edit
]
《Blaze》- Är ett vapen som är skapad genom att materialisera din egna själ med din förstärkta viljestyrka. Jag, Tooru Kokonoe, har förmågan som bara vad tusende person besitter, så det var bestämt att jag skulle förflyttas till Kouryou-akademin som ger 《Blaze》, och en skola som lär ut stridstekniker. Men för en okänd anledning, hade min 《Blaze》 inte formen av ett vapen utan formen av en Sköld.
Översättning
[
edit
]
De som vill bidra till översättningen ombedes att informera handledaren på förhand.
Responstrådd
[
edit
]
[Feedback]
Uppdateringar
[
edit
]
04-August-2014
Absolute Duo av Hiiragi★Takumi

[

edit

]
Volym 1
[
edit
]
Volym 2
[
edit
]
Volym 3
[
edit
]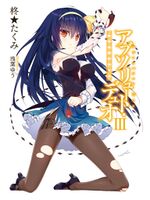 Volym 4
[
edit
]
Volym 5
[
edit
]
Projektpersonal
[
edit
]
Översättare
[
edit
]
Inaktiva
[
edit
]
Serieöverblick
[
edit
]
アブソリュート・デュオ 告白は蒼刻の夜に (August 23, 2012 ISBN 978-4-84-014604-3)
アブソリュート・デュオII 嘘と真と赤い紅 (December 21, 2012 ISBN 978-4-84-014934-1)
アブソリュート・デュオIII 渚に揺れる恋物語り (June 25, 2013 ISBN 978-4-84-015228-0)
アブソリュート・デュオIV 黎明せし異能の境界 (November 25, 2013 ISBN 978-4-04-066029-5)
アブソリュート・デュオV 闇ノ銀狼、光ノ深淵 (March 25, 2014 ISBN 978-4-04-066312-8)
アブソリュート・デュオVI 風と焔と雷と (July 25, 2014 ISBN 978-4-04-066911-3)