La princesse et le pilote
From Baka-Tsuki
| | |
| --- | --- |
| | This Teaser Project has not yet reached Full Project status requirements. |
Help this project out by joining the translation team! — Learn more about Full Project Approval Requirements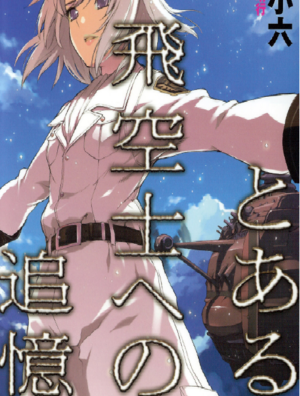 La série To Aru Hikūshi e no Tsuioku est également disponible dans les langues suivantes :
To Aru Hikūshi e no Tsuioku (とある飛空士への追憶, littéralement "Souvenirs d'un certain pilote") est un light novel écrit par Koroku Inumura et illustré par Haruyuki Morisawa. Un film d'animation est sorti dans les salles japonaise le 1er octobre 2011. Plus connu sous le nom de "La princesse et le pilote".
Synopsis
[
edit
]
L'histoire tourne autour de Charles Karino, un pilote de l'air mercenaire de l'Empire Levahm qui pilote l'hydravion de reconnaissance biplace Santa Cruz. Un jour, on lui confie une mission insensée : traverser seul 12 000 kilomètres dans les eaux ennemies pour protéger une fille dénommée Fana del Moral. Fana se trouve être la prochaine en ligne pour monter sur le trône, une fille à la beauté équivalente à "5 000 rayons de lumière".
Présentation des personnages
[
edit
]
Charles Karino

Pilote mercenaire amatsuvo-levahmien au service des del Moral. À la suite de la mort du duc del Moral, on lui confie une mission pour le moins périlleuse : escorter la fille du duc jusqu'au continent à travers les lignes ennemies.
Fana del Moral

Fille du duc del Moral. Le prince impérial de l'Empire Levahm est tombé sous le charme de sa beauté transcendante, et leur mariage est censé donner un nouvel élan à l'Empire qui perd du terrain face à son ennemi, l'Amatsukami.
Règles de Traduction
[
edit
]
Cette partie doit être lue par tous les traducteurs et éditeurs du projet.
Insérer ici un texte non formaté=== Enregistrement ===
Chaque chapitre doit se conformer aux règles ci-dessous après édition :
La traduction est de l'Anglais au Français.
Feedback
[
edit
]
Une remarque ou un remerciement ? Voir le sujet sur le forum
Mises à jour
[
edit
]
27 octobre 2016 : Chapitre 8
07 juin 2014 : Chapitre 4
08 mai 2014 : Chapitre 3
23 avril 2014 : Chapitre 2
22 mars 2014 : Chapitre 1
08 février 2014 : Prologue
04 février 2014 : Création de la page
Traducteurs
[
edit
]
Éditeurs
[
edit
]
Publications
[
edit
]
ある飛空士への追憶 / To Aru Hikūshi e no Tsuioku (19 février 2008, ISBN 978-4-09-451052-2)