Masou Gakuen HxH (Indonesia)
Jump to navigation
Jump to search
Only available to registered users. Register hereDo you follow this series? Rate it!

Masou Gakuen H×H or Hybrid × Heart Magias Academy Ataraxia (魔装学園H×H) adalah serial Light Novel bahasa Jepang ditulis oleh Kuji Masamune (久慈 マサムネ), dengan ilustrasi oleh Hisasi & desain mekanis oleh Kurogin (黒銀). Jilid pertama dipublikasi bulan Januari 2014 dan tamat dengan 13 jilid. Adaptasi manga dipublikasi sejak Juni 2015, dengan adaptasi anime sudah ditayangkan di bulan Juli sampai September 2016, dengan 12 episode.
Masou Gakuen HxH series is also available in the following languages:
Sinopsis
[
edit
]
Hida Kizuna mengunjungi mengunjungi akademi pertahanan strategis, Ataraxia, berdasarkan dari panggilan kakak perempuannya di mana dia bertemu dengan gadis yang mengoperasikan magic armor <Zeros>, Chidorigafuchi Aine. Aine tiba-tiba membuka pakaiannya di depan matanya tapi...... "Jangan lihat, mesum-" "Tidak, kau, bukan!?" Kizuna menjadi bingung oleh Aine yang berlidah jahat. Tapi, di sana ada kontak dari kakak perempuannya soal misi penting yang datang. Isi dari kontak itu――untuk menggosok payudara Aine!? Kebenarannya yaitu Kizuna memiliki kekuatan untuk menguatkan seorang gadis dengan melakukan tindakan mesum, dengan kekuatan itu masa depan pertempuran dengan dunia alternatif dimulai!!
Terjemahan
[
edit
]
Terjemahan sudah sampai jilid 7 & 11, tinggal edit (Ingin bantu? Tanyakan setiakun)
Pembaruan
[
edit
]
03 September
Vol 1 Bab 4
Vol 1 Kata Penutup
Vol 2 Prolog
15 Agustus 2018
07 Agustus 2018
10 Juli 2018
06 Juli 2018
Proyek dibuka
Vol 1 Prolog
Masou Gakuen HxH oleh Kuji Masamune

[

edit

]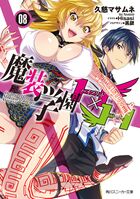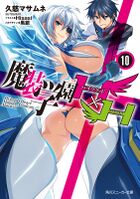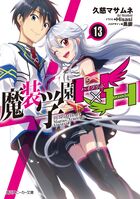 Bonus Side Stories
[
edit
]
Drama CD Novel Prolog
Drama CD Novel Bab 1 – To Be Your Number One!
Drama CD Novel Bab 2 – Water Slider And Breastfeeding Room
Drama CD Novel Bab 3 – We Are Only Eating Ice Cream, That's All!
Drama CD Novel Bab 4 – Hida Kizuna's Castaway Story
Drama CD Novel Bab 5 – The One Who Win in the End
Drama CD Novel Epilog
Volume 11 Bonus Side Story – Art Class
Volume 12 Bonus Side Story – Masters Patissier
Volume 12 Bonus Side Story – Enjoy Eating Me
Volume 12 Bonus Side Story – Sylvia and Ralgrus
Volume 13 Bonus Side Story – Sylvia
Volume 13 Bonus Side Story – Hayuru
Project Staff
[
edit
]
Project Administrator:
Project Manager:
Penerjemah
[
edit
]
Penyunting
[
edit
]
Series Overview
[
edit
]
魔装学園H×H - 31 Januari 2014 ISBN 978-4-04-101200-0
魔装学園H×H2 - 31 Mei 2014 ISBN 978-4-04-101526-1
魔装学園H×H3 - 30 September 2014 ISBN 978-4-04-102011-1
魔装学園H×H4 - 31 Januari 2015 ISBN 978-4-04-102442-3
魔装学園H×H5 - 30 Mei 2015 ISBN 978-4-04-102897-1
魔装学園H×H6 - 30 September 2015 ISBN 978-4-04-102898-8
魔装学園H×H7 - 30 Januari 2016 ISBN 978-4-04-103752-2
魔装学園H×H7 オリジナルドラマCD付き同梱版 - 30 Januari 2016 ISBN 978-4-04-103290-9
魔装学園H×H8 - 30 Juni 2016 ISBN 978-4-04-103753-9
魔装学園H×H9 - 31 Agustus 2016 ISBN 978-4-04-104711-8
魔装学園H×H10 - 01 Februari 2017 ISBN 978-4-04-104712-5
魔装学園H×H11 - 01 Juni 2017 ISBN 978-4-04-104713-2
魔装学園H×H12 - 01 November 2017 ISBN 978-4-04-105518-2
魔装学園H×H13 - 01 Juli 2017 ISBN 978-4-04-106027-8