Rakudai Kishi no Eiyuutan (Indonesia)
From Baka-Tsuki
| | |
| --- | --- |
| | This Teaser Project has not yet reached Full Project status requirements. |
Help this project out by joining the translation team! — Learn more about Full Project Approval Requirements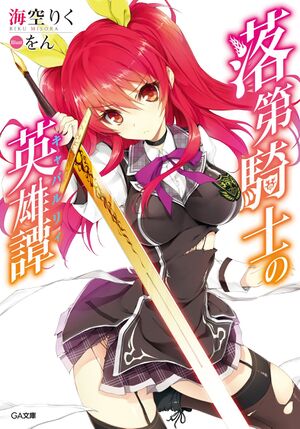 Rakudai Kishi no Eiyuutan (落第騎士の英雄譚, A Chivalry of the Failed Knight) atau secara bahasa diartikan sebagai (Kesatria Gagal Sejati), adalah serial light novel yang ditulis oleh Riku Misora (海空りく) dan diilustrasikan oleh Won (をん). Sampai saat ini, sepuluh volume dan volume zero telah diterbitkan di bawah label GA Bunko. Rakudai juga memperoleh adaptasi anime yang tayang mulai 3 Oktober 2015 sampai 19 Desember 2015 dengan terdiri atas 12 episode dan mencakup tiga volume awal light novel. Selain anime terdapat juga adaptasi manga yang terbit lebih dahulu yaitu pada tanggal 4 Maret 2014, dan diilustrasikan oleh Soramichi Megumu dibawah naungan Gangan Online.
Rakudai Kishi no Eiyuutan juga tersedia dalam bahasa berikut :
Sinopsis
[
edit
]
Ada beberapa manusia yang mampu menggunakan sihir untuk perwujudan jiwa mereka sebagai senjata dan mengendalikan kekuatan-kekuatan di luar akal sehat. Orang-orang itu dijuluki sebagai Blazer, mereka yang diakui demikian dapat menjalani pelatihan di akademi untuk menjadi Kesatria Sihir. Ikki Kurogane yang ingin menjadi Kesatria Sihir, dianggap murid paling rendah di Akademi Hagun, seorang Blazer kelas F― serta peringkat paling belakang.
Di suatu pagi, dia secara tak sengaja bertemu Stella Vermillion, seorang putri dan Blazer kelas A yang baru saja didaftarkan di Hagun, dan dalam keadaan telanjang. Sebagai hasilnya, dia menantang berduel di mana yang kalah akan jadi budak sang pemenang. Yang nampaknya akan dimenangkan oleh Stella, namun dapatkah hal itu menjadi sekedar pertemuan saja?
Rakudai Kishi no Eiyuutan mengisahkan tentang usaha kegigihan Ikki untuk mengikuti turnamen yang bisa membawa dirinya selangkah lebih dekat mencapai impiannya, dengan dibantu oleh Stella. Dengan bersama, mereka akan membuktikan kalau kerja keras mampu mengatasi keterbatasan yang diikat pada mereka.
(Sinopsis diambil dari MAL dan diterjemahkan.)
Informasi Serial
[
edit
]
Genre : Action, Comedy, Drama, Ecchi, Fantasy, Martial Arts, Romance, School.
Judul : 落第騎士の英雄譚
Penulis : Misora Riku
Ilustrator : Won
Volume yang diterbitkan : 1-10 & Zero
Status Serial : Masih berlanjut
Terjemahan
[
edit
]
Penerjemah dimohon untuk mendaftar bab/chapter yang mereka ingin kerjakan.
Format Standar
[
edit
]
Setiap bab (setelah diedit) harus sesuai dengan format pedoman resmi.
20 April 2018 - Volume 1 Chapter 2 selesai
28 Mei 2016 - Volume 1 Chapter 1 selesai
13 Mei 2016 - Teaser & Volume 1 Prolog selesai
Serial Rakudai Kishi no Eiyuutan oleh Misora Riku

[

edit

]
Volume 1
[
edit
]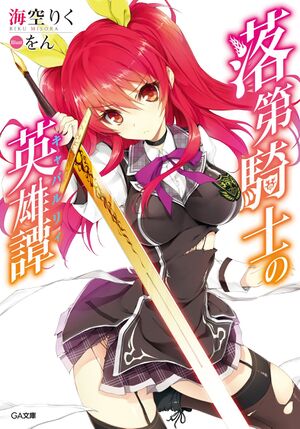 Volume 2
[
edit
]
Volume 3
[
edit
]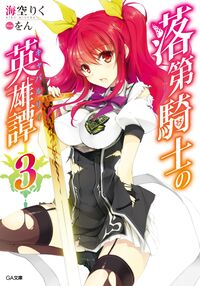 Volume 4
[
edit
]
Volume 5
[
edit
]
Volume 6
[
edit
]
Volume Zero
[
edit
]
Volume 7
[
edit
]
Volume 8
[
edit
]
Volume 9
[
edit
]
Volume 10
[
edit
]
Staff Proyek
[
edit
]
Supervisor :
Pengawas Proyek :
Penerjemah
[
edit
]
Aktif
Tidak Aktif
- siapapun yang dapat berbahasa indonesia dengan baik dipersilahkan
Tinjauan Serial
[
edit
]
Volume 1: ISBN 978-4797374681 (published July 16, 2013)
Volume 2: ISBN 978-4797375480 (published October 16, 2013)
Volume 3: ISBN 978-4797376418 (published January 15, 2014)
Volume 4: ISBN 978-4797377200 (published April 15, 2014)
Volume 5: ISBN 978-4797377927 (published August 8, 2014)
Volume 6: ISBN 978-4797380316 (published December 13, 2014)
Volume Zero: ISBN 978-4797382907 (published March 13, 2015)
Volume 7: ISBN 978-4797383522 (published May 14, 2015)
Volume 8: ISBN 978-4797384703 (published October 14, 2015)
Volume 9: ISBN 978-4797385144 (published December 12, 2015)
Volume 10: ISBN 978-4797387315 (published April 15, 2016)