Seikai no Senki
Jump to navigation
Jump to search
Note: This Project has been declared as Abandoned!
and was taken down.




Please see Template:Abandoned for further information about this classification.
This title was licensed by J-Novel Club on April 20th 2019.
Side stories remain, since it's unknown if they're included in the license.


"Banner of the Stars" or "Seikai no Senki" (星界の戦旗) is a series of novels expanding the sci-fi saga which has been started with "Crest of the Stars" or "Seikai no Monshou" (星界の紋章). As of 2013 there are three Monshou books and five Senki novels, and many more books.
Story Synopsis
Three years have passed since the events of Crest of the Stars. The once Four Nations Alliance has become a Triple Alliance, with one being neutral. The war in the galaxy had come to a stalemate in these years. Now the opponents have rebuild enough and the galactic war is about to begin anew.
In the midst of all of this, Lafiel had become captain on the brand new assault ship Basroil and Jinto had joined her after finishing his training to become a supply officer. The Abh Empire makes a daring attack by cutting the United Mankind, one of the enemy nations, into pieces. The Basroil joins a fleet with the mission of protecting the strategic Aptic Gate from a force 15 times larger than their own.
After the successful strike, the Abh Empire begins to conquer the surrounding areas and retake territories previously lost in the initial attack by the United Mankind. Lafiel had been assigned as temporary territorial governor of Lobnas II, a prison planet.
In the midst of an evacuation a revolt breaks out trapping Jinto. With an enemy fleet approaching, Lafiel is forced to abandon Jinto.
After being rescued by Lafiel, both make a short visit to Jinto's recaptured home which was on the verge of revolting.
Returned from their extended leave, Lafiel becomes captain of the Flicaubh, a new type of ship class.
Another three years have passed. The Abh Empire cuts the United Mankind again, but this time also cuts it off from all its allies.
In this situation the neutral Hania Federation makes an unexpected offer to join the Abh Empire. After careful considerations, the Empress Ramaj decides to take the offer, and gamble with the very existence of the Abh Empire.
The Four Nations Alliance immediately sprung the trap. Empress Ramaj scrambled for the defense while initiating the evacuation of the capital. She together with ex-Emperors, the Imperial Guards and defense forces held the line to the last man. Lafiel barely escaped with her life while protecting the dearest memory of her people. Like many she lost her home, and nearly all of her family Lafiel has to face her new duty a the crown princess of the Empire. An Empire that is shattered and still left (7 or 6) pieces.
Short Story Novel I - 星界の断章 I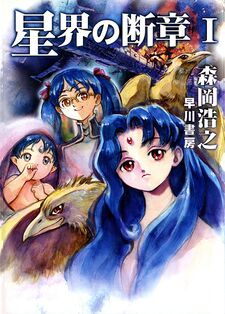 Banquet - 饗宴
Collection - 蒐集
Suckling - 哺啜
Reign - 君臨
Sacrament - 秘蹟
Nocturne - 夜想
Tremble - 戦慄
Birth - 誕生
Tyrant - 暴君
Contact - 接触
Original Sin - 原罪
Short Story Novel II - 星界の断章 II
Annexation - 併呑
Envy - 嫉妬
Reporting for Duty - 着任
Childhood Friend - 童友
Moving - 転居
Conspiracy - 謀計
Ball Sports - 球技
Severance - 訣別
Child's Play - 童戯
Blessing - 祝福
Change - 変転
Strict Adherence - 墨守
Short Story Novel III - 星界の断章 III
野営

"Camping with Penej(Spoor)" - 星界の断章 "野営~ぺネージュの場合"

"(Take) Flight" - 星界の断章 "出奔"
"Intervention" - 星界の断章 "介入"
"Enticement" - 誘引
"Eagre/Tidal Bore" - 星界の断章 "海嘯"
"Meetings and Partings" - 離合
"The Visit" - 来遊
Short Story Novels unsorted - 星界の戦旗 / 星界の断章
"Old-enemy" - 星界の戦旗 "宿敵"
"Incentives" - 星界の断章 "誘因"
"Crossroad" - 星界の断章 "岐路"
Series Overview
Japanese releases
星界の戦旗 I ・絆のかたち (December 11, 1996, ISBN 978-4-15-030573-4)
星界の戦旗 II ・守るべきもの (August 19, 1998, ISBN 978-4-15-030603-8)
星界の戦旗 III ・家族の食卓 (March 23, 2001, ISBN 978-4-15-030660-1)
星界の戦旗 IV ・軋む時空 (December 21, 2004, ISBN 978-4-15-030774-5)
星界の戦旗 V ・宿命の調べ (March 21, 2013, ISBN 978-4-15-031106-3)
星界の戦旗 VI 帝国の雷鳴 (September 5, 2018, ISBN 978-4-15-031341-8)
星界の戦旗 "宿敵" (award winning story as part of PS2 game 2005/4/21;BEST HIT セレクション 星界の戦旗;2007/3/15 ASIN: B000MJRJD0)
星界の断章 I (July 8, 2005, ISBN 978-4-15-030802-5)
星界の断章 II (March 8, 2007, ISBN 978-4-15-030880-3)
星界の断章 III (March 20, 2014, ISBN 978-4150311537)
星界の断章 "出奔" (as part of 星界の断章オーディオドラマCDブック Audio Drama collection Box; March 23, 2011, ISBN 4844361902)
星界の断章 "誘因" (featured in 月と星の宴 / Feast of the Moon and Stars; August 18, 2007, 040010127410)
星界の断章"野営~ドゥサーニュの場合" (as part of EMOTION the Best 星界の紋章 DVD-BOX; May 28, 2010, ASIN: B0031JP4SA)
星界の断章"野営~ぺネージュの場合" (as part of EMOTION the Best 星界の戦旗 DVD-BOX; June 25, 2010, ASIN: B0031JP4T4)
星界の断章"野営~ノールの場合" (as part of EMOTION the Best 星界の戦旗II・III DVD-BOX; July 23, 2010, ASIN: B0031JP4TE)
星界の断章 "介入" (SF magazine 2013 Issue 5 feature story; March 25, 2013, ASIN: B00BSDQ23C)
星界の断章 "海嘯" (SF magazine 2013 Issue 10 feature story; August 25, 2013, ASIN: B00ENMGQSQ)
星界の断章 "岐路" (SF magazine 2014 Issue 1 feature story; November 25, 2013, ASIN: B00GMPEUSA)
English releases
Crest of the Stars 1 TBA