Difference between revisions of "Sword Art Online:Progressive"
From Baka-Tsuki
---
Revision as of 04:15, 14 June 2014
| | |
| --- | --- |
| | This Teaser Project has not yet reached Full Project status requirements. |
Help this project out by joining the translation team! — Learn more about Full Project Approval Requirements
Note: This Project has been declared as Abandoned!
and was taken down.




Please see Template:Abandoned for further information about this classification.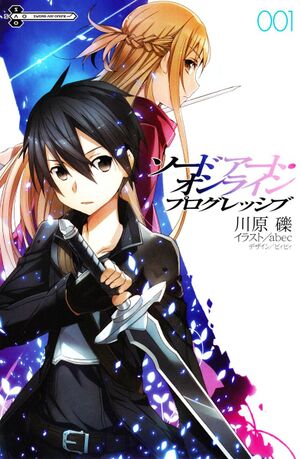 Sword Art Online: Progressive (ソードアート・オンライン プログレッシブ) is a spin-off series of Sword Art Online written by Reki Kawahara and illustrated by abec.
It is published by ASCII Media Works under their imprint Dengeki Bunko, and it is reboot of the SAO Aincrad Arc starting from a day or two before the clearing of the First Floor Boss, and continuing onwards.
As of January 2014, the series currently has 2 volumes.
Yen On lists first volume of Progressive for February 2015 release on distributor site.
The Sword Art Online: Progressive series is also available in the following languages:
Story Synopsis
"This game is impossible to clear. It's just a matter of when, where and how you die." Kayaba Akihiko's death game has been up for one month. This incredibly difficult VRMMO has already claimed 2000 victims. It's the day of the 1st floor boss strategy meeting. The solo player Kirito, who's decided to only strengthen himself, meets a rare female player on the current front lines, while heading to the meeting around noon. Fighting alone against the strong monsters, she was like a meteor cutting the night sky.
A compilation of Aria in the Starless Night, where Kirito becomes known as the Black Swordsman, the events concerning the 2nd floor boss clearing, and Rondo of the Transient Blade, the sad tale of a young male blacksmith.
(Source: MAL)
Translation
Translators are asked to register which chapters they're working on
Format Standards
Every Chapter (after editing) must conform to the general format guidelines.
Updates
Older updates can be found on the SAO:Progressive:Updates page.
3 November 2012 - Volume 1 Chapter 2 Uploaded
27 October 2012 - Volume 1 Afterword Uploaded
21 March 2013 - Volume 1 Chapter 1 Uploaded
The Sword Art Online:Progressive series by Reki Kawahara
Volume 1
Volume 2
Misc
Side Stories
Note: Please be advised that these stories might or might not be canon and might also have details that are slightly different than the volumes above.
Sword Art Online: Material Editions
The Material Edition (ME) series is a series of doujinshis created by Kawahara Reki himself using the pen name "Kunori Fumio" (the same pen name he used when he wrote the web novel of SAO). Material Edition 1 and 3 have no links because they are not text, they are in manga format.
ME4: Cold hand, Warm heart (Aincrad 50th Floor, September 2024)
ME5: Salvia (Kawagoe, January 2025)
ME6: Algade Showdown (Aincrad 22nd Floor, October 2024)
ME7: Continuation: Aria in the Starless Night (Aincrad 2nd Floor, 4 December 2022)
ME8: Rondo of the Transient Sword - first chapter (Aincrad 2nd Floor, 8 December 2022)
ME9: Concerto of Black and White - first chapter (Aincrad 3rd Floor, 14 December 2022)
ME10: 16.6 (Aincrad 22nd Floor, 24 October 2024)
ME11: 16.7 (Aincrad 22nd Floor, 25 October 2024)
ME12: 16.8 (Aincrad 22nd Floor, 25 October 2024)
Project Staff
Project Supervisor:
Project Manager:
Translators
ACTIVE
INACTIVE
Editors
ACTIVE
INACTIVE
Series Overview
Volume 1 (October 2012) - ISBN 978-4-04-886977-5
Volume 2 (December, 2013) - ISBN 978-4-04-866163-8