Sword Art Online
From Baka-Tsuki
Note: This Project has been declared as Abandoned!
and was taken down.




Please see Template:Abandoned for further information about this classification.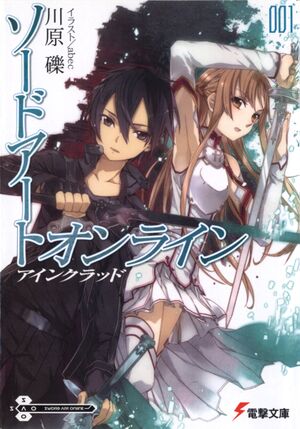 Sword Art Online (ソードアート・オンライン, Sōdoāto Onrain) is a light novel series written by Reki Kawahara and illustrated by abec.
There are currently 14 volumes released in Japanese with the 15th out in August 2014.
The English version has been licensed by Yen Press which has released Volume 1 in April 2014 with Volume 2 out in August 2014. Please support the series by buying the official English translations.
It was written as a Web novel with the penname "Kunori Fumio" since 2002, and was published in 2009 at the same time as Accel World, in the label Dengeki Bunko.
Related Series: Sword_Art_Online:Progressive

The Sword Art Online series is also available in the following languages:
Story Synopsis
Escape was impossible until it was cleared; a game over would mean an actual «death»―.
Without knowing the «truth» of the mysterious next generation MMO, «Sword Art Online» (SAO), approximately ten thousand users logged in together, opening the curtains to this cruel death battle.
Participating alone in SAO, protagonist Kirito had promptly accepted the «truth» of this MMO.
And in the game world, a gigantic floating castle named «Aincrad», he distinguished himself as a solo player.
Aiming to clear the game by reaching the highest floor, Kirito riskily continued alone.
Because of a pushy invitation from a female warrior and rapier expert, Asuna, he teamed up with her.
That encounter brought about an opportunity to call out to the fated Kirito―.


The legendary novel made an appearance with browsing numbers exceeding 6.5 million page views recorded at the personal website.
Series Overview
Japanese releases
English releases
Timeline
Warning : This page is full of spoilers related to the story. You have been warned of its content.
Project Staff
Translators
ACTIVE
RETIRED
M.I.A.
Editors
ACTIVE
INACTIVE
KIA
More Information
Wikis
Wikipedia Articles
Reki Kawahara