Sword Art Online ~Italian Version~
From Baka-Tsuki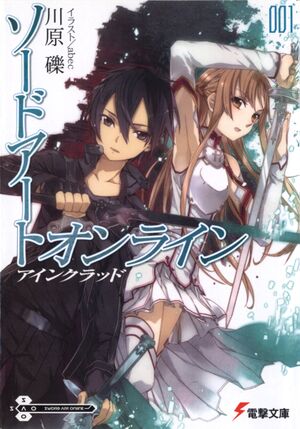 Sword Art Online (ソードアート・オンライン) è una light novel scritta da Reki Kawahara ed illustrata da Abec.
Al momento, la serie è composta da dieci volumi ed è in corso un adattamento animato da parte della A-1 Pictures.
Ha le sue origini nel 2002 come romanzo pubblicato in rete con lo pseudonimo di "Kunori Fumio" ed è stato pubblicato nel 2009 in contemporanea a Accel World nel Dengeki Bunko.

Sword Art Online è disponibile anche nelle seguenti lingue:
DATO CHE LA SERIE È STATA ACQUISTATA, TUTTE LE MODIFICHE SONO INTERROTTE, E A RICHIESTA DELLA CASA DI PUBBLICAZIONE, VERRÀ TUTTO CANCELLATO.
Riassunto della storia
È impossibile abbandonare il gioco fino al completamento; un game over porta veramente alla "morte".
Senza la consapevolezza del rischio che correvano in questo nuovo MMO (SwordArtOnline/SAO), circa 10.000 giocatori vi loggarono dando vita a numerose e crudeli battaglie mortali.
Giocando da solo a SAO, il protagonista Kirito ha accettato immediatamente la verità di questo strano MMO,
e nel mondo virtuale, un gigantesco castello fluttuante in aria chiamato "Aincrad", diventò noto come giocatore solitario.
Nel tentativo di completare il gioco raggiungendo il piano più alto, Kirito si ritrova spesso in situazioni rischiose da solo,
ma a causa di un invito "forzato", dopo un breve periodo, forma un gruppo con Asuna, una spadaccina esperta nell'uso del rapier.
Quell'incontro ha portato alla luce una strana verità, ovvero, Kirito sembrava essere uno dei prescelti-

Questo romanzo leggendario ha fatto la sua comparsa con un numero di visite superiore ai 6.5 milioni registrate sul sito personale.
Traduzione
Coloro che desiderano contribuire, si prega di avvertire in anticipo un supervisore del progetto.
Ai traduttori è chiesto di scrivere su Registrazione su quali capitoli stanno lavorando
Formato Standard
Ogni capitolo (dopo essere stato editato) deve essere conforme alle regole generali.
Aggiornamenti
01/08/14 - Project taken down, due to the Italain license.
Sword Art Online di Reki Kawahara
Side Stories
Nota: Si avverte che questi racconti potrebbero essere fuori dalla norma, quindi potrebbero ocntenere informazioni che contraddicono i volumi soprastanti.
Aria nella Notte senza Stelle (Primo piano Aincrad, Dicembre 2022)
Rondò della Spada Effimera (Secondo piano Aincrad, 8 Dicembre 2022)
Rumore dell'Acqua, Suono del Martello (SAO Side Story di Lizbeth) (48esimo piano Aincrad, Agosto 2024)
Caliber SS (Quest Fallita)
Versus (Roppongi, Aprile 2026) (Accel World crossover)
Culla Lunare
Il finale è uno solo (Underworld, Agosto 2026) (Avvertenza: Spoiler su Alicization)
Capitolo 16.5 (Avvertenza: VM18)
Sword Art Online: Material Editions
Il Materiali per l'Edizione, Material Edition (ME) è una serie di racconti creati da Kawahara Reki utilizzando lo pseudonimo "Kunori Fumio".
ME1: I Completatori
ME2: Origine dei Personaggi
ME3: Cuore di Ceramica
ME4: Mani Fredde, Cuore Caldo (50esimo Piano Aincrad, Settembre 2024)
ME5: Salvia (Kawagoe, Gennaio 2025)
ME6: Confronto a Algade (22esimo Piano Aincrad, Ottobre 2024)
ME7: Continuazione: Aria nella Notte senza Stelle (Secondo Piano Aincrad, 4 Dicembre 2022)
ME8: Rondò della Spada Effimera - Primo Capitolo (Secondo Piano Aincrad, 8 Dicembre 2022)
ME9: Concerto Monocromo - Primo Capitolo (Terzo Piano Aincrad, 14 Dicembre 2022)
Staff del progetto
Traduttori
M.I.A.
Redattori
Riassunto della serie
Sword Art Online
Volume 1 - Aincrad (Aprile 2009) - ISBN 978-4-04-867760-8
Volume 2 - Aincrad (Agosto 2009) - ISBN 978-4-04-867935-0
Volume 3 - Danza Fatata (Dicembre 2009) - ISBN 978-4-04-868193-3
Volume 4 - Danza Fatata (Aprile 2010) - ISBN 978-4-04-868452-1
Volume 5 - Proiettile Fantasma (Agosto 2010) - ISBN 978-4-04-868763-8
Volume 6 - Proiettile Fantasma (Dicembre 2010) - ISBN 978-4-04-870132-7
Volume 7 - Rosario Materno (Aprile 2011) - ISBN 978-4-04-870431-1
Volume 8 - Albori e Posteriori (Agosto 2011) - ISBN 978-4-04-870733-6
Volume 9 - Inizio dell'Alicization (February 2012) - ISBN 978-4-04-886271-4
Volume 10 - Continuazione dell'Alicization (July 2012) - ISBN 978-4-04-886697-2
Sword Art Online: Proseguimento