Sword Art Online (German)
From Baka-Tsuki
Note: This Project has been declared as Abandoned!
and was taken down.




Please see Template:Abandoned for further information about this classification.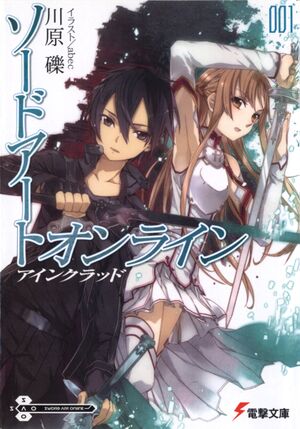 Sword-Art Online (ソードアート・オンライン) ist eine Light-Novel Serie, geschrieben von Reki Kawahara und illustriert von Abec.
Momentan hat die Reihe 13 Bände und mehrere Nebenbände.

Am 07. Juli 2012 erschien eine Anime-Adaption der Serie, die in Zusammenarbeit mit Autor Kawahara bearbeitet wurde.

NOTICE: Sword-Art Online wurde vom Publischer Tokyopop lizenziert. Daher werden die Kapitel in den nächsten Wochen gelöscht werden.

Die Sword Art Online Reihe ist auch in den folgenden Sprachen verfügbar:
Inhalt
Man müsste es 'klären', um zu entkommen. Ein Game-Over glich einem echten "Tod"–.
Ohne die "Wahrheit" über das mysteriöse NEXT-GENeration MMO – [Sword-Art Online (SAO)] – zu kennen, loggten sich mehr als 10.000 "User" ein. Somit öffnete sich der Vorhang eines unerbittlichen Kampfes um Leben und Tod.
Als einer der Wenigen in SAO hatte Protagonist Kirito die "Wahrheit" über das MMO bereits akzeptiert.
Und als Solo-Spieler bestritt er die virtuelle Welt 'Aincrad'; ein gigantisches, fliegendes Schloss und riskierte sein Leben, die oberste Etappe zu erreichen, um das Spiel zu klären.
Doch wegen einer aufdringlichen Einladung tat Kirito sich mit der Kriegerin und Rapier-Expertin Asuna zusammen.
Mit dieser Begegnung nahm Kiritos Schicksal seinen Lauf–.

Die legendäre Light-Novel trat mit unglaublichen Zahlen in Erscheinung. Die Webseite hatte über 6.5 Millionen Aufrufe.

Zeitspanne
Registrierung
Wenn du Lust hast, uns bei der Übersetzung zu helfen, dann poste eine Anfrage bei Shin Aku (talk). Anschließend (nach Absprache) registriere dich HIER, an welchen Kapitel du arbeitest.

Wir suchen Editoren, die kleine Fehler ausmerzen. Melde dich bei Shin Aku (talk)
Schreib deine Meinung ins Forum.
Format
Die Sword-Art Online Reihe von Reki Kawahara
The Sword Art Online: Progressive-Reihe von Reki Kawahara
Sword Art Online: Progressive ist eine Neuauflage der SAO Aincrad Serie. Sie erzählt von den ersten Tagen, bevor das erste Stockwerk geklärt wurde und führt sie fort. Das erste Kapitel wurde zum Teil in die Animeadapption verwendet, gehört allerdings nicht in die Hauptgeschichte von SAO - Aincrad.
Volume 1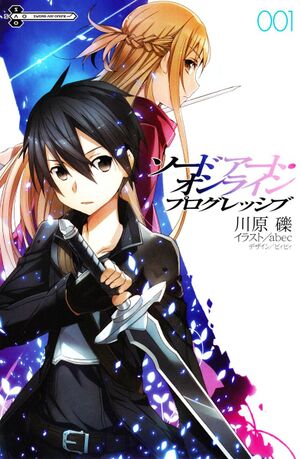 Nebengeschichten
Notiz: Bitte denkt daran, dass diese Geschichten nicht Kanon sind und etwas anderen Inhalt als die Geschichten oben haben.
Project Staff
Übersetzer
Aktiv
Inaktiv
M.I.A.
Editors
Bände im Überblick
Volume 1 - Aincrad (April 2009) - ISBN 978-4-04-867760-8
Volume 2 - Aincrad (August 2009) - ISBN 978-4-04-867935-0
Volume 3 - Fairy Dance (December 2009) - ISBN 978-4-04-868193-3
Volume 4 - Fairy Dance (April 2010) - ISBN 978-4-04-868452-1
Volume 5 - Phantom Bullet (August 2010) - ISBN 978-4-04-868763-8
Volume 6 - Phantom Bullet (December 2010) - ISBN 978-4-04-870132-7
Volume 7 - Mother's Rosario (April 2011) - ISBN 978-4-04-870431-1
Volume 8 - Early and Late (August 2011) - ISBN 978-4-04-870733-6
Volume 9 - Alicization Beginning (February 2012) - ISBN 978-4-04-886271-4
Volume 10 - Alicization Running (July 2012) - ISBN 978-4-04-886697-2
Volume 11 - Alicization Turning (December 2012) - ISBN 978-4-04-891157-3
Volume 12 - Alicization Rising (April 2013) - ISBN 978-4-04-891529-8
Volume 13 - Alicization Dividing (August 2013) - ISBN 978-4-04-891757-5
Volume 14 - Alicization Uniting (April 10, 2014) - ISBN 978-4-04-866505-6
Sword Art Online: Progressive Reihe
Volume 1 (October 2012) - ISBN 978-4-04-886977-5
Mehr Informationen
Wikipedia Artikel