Tenkyou no Alderamin
Jump to navigation
Jump to search
Project Status: HALTED

This project has not been updated in the past 12 months.
Help revive this project by joining the translation team! — Learn more about Baka-Tsuki activity status.
Alderamin on the Sky (Nejimaki Seirei Senki - Tenkyou no Alderamin) (ねじ巻き精霊戦記 天鏡のアルデラミン) is a Japanese light novel series written by Uno Bokuto (宇野朴人), with illustrations by Sanba Sou (さんば挿), published by ASCII Media Works under their Dengeki Bunko label. The series took the 2nd spot in "This Light Novel is Amazing 2014".
A TV series anime adaptation has been announced for 2016.
Synopsis
The mighty Katjvarna Empire is currently embroiled in a war with the neighboring Kiorka Republic.
Within an unspecified corner of this empire, a certain young man was reluctantly preparing to take the High Grade Military Officer Exam owing to mysterious circumstances. His name is Ikta.
As a man, Ikta abhors war, is slothful by nature, and worships the female form.
At the time, no one could have possibly predicted that a person like him would become a military figure worthy of being called a legendary general......
The young Ikta, armed with his superb talents as a soldier, struggles to survive in a world ravaged by war. This tale will recount his tumultuous life up until this point, as the curtains are drawn for a spectacular chronicle of fantastical warfare!
Editors
I translate for grammatical accuracy and edit myself for flow, clarity and nuance. Readers are welcome to fix any minor grammatical or spelling errors that they find, but please contact me concerning any major grammatical errors that involve the meaning of the text (which do occasionally occur) for future reference. I realize that what's grammatically accurate isn't always the translation that sounds the best, so I'm also open to stylistic suggestions.
Note to Readers
In this series, all of the characters are actors playing themselves in a theater production, a quite literal interpretation of the phrase "All the world's a stage, And all the men and women merely players." The narration is given from the perspective of the audience, so I recommend trying to imagine everything in the context of a stage as you read. Enjoy!
You can share and discuss this series here.
Translation
Those who wish to contribute are asked to first notify a supervisor beforehand.
Translators are asked to register for chapters they want to work on
Format Standards
Every Chapter (after editing) must conform to the general format guidelines.
Updates
4-Feb-2017

Volume 2 Chapter 4 completed

16-Jul-2015

Volume 3 Chapter 1 completed

12-Jul-2015

Volume 3 Prologue completed

14-May-2015
16-May-2015

Afterword completed
Volume 2 Prologue completed

25-May-2015

Volume 2 Chapter 1 completed
The Tenkyou no Alderamin series by Uno Bokuto
Volume 2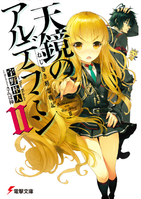 Volume 3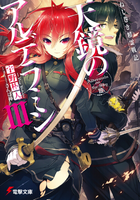 Chapter 2
Chapter 3
Chapter 4
Epilogue
Volume 4
Volume 5
Volume 6
Volume 7
Volume 8
Project Staff
Translators
ACTIVE
INACTIVE
Editors
Series Overview
天鏡のアルデラミン(2012年6月10日初版発行) ISBN 978-4-04-886559-3
天鏡のアルデラミンⅡ(2012年11月10日初版発行) ISBN 978-4-04-886988-1
天鏡のアルデラミンⅢ(2013年4月10日初版発行) ISBN 978-4-04-891533-5
天鏡のアルデラミンⅣ(2013年9月10日初版発行) ISBN 978-4-04-891906-7
天鏡のアルデラミンⅤ(2014年3月8日発売) ISBN 978-4-04-866437-0
天鏡のアルデラミンVI(2014年10月10日初版発行)ISBN 978-4-04-869011-9
天鏡のアルデラミンVII (2015年3月10日発売) ISBN 978-4-04-869336-3
天鏡のアルデラミンVIII (2015年10月10日発売) ISBN 978-4-04-865456-2