User talk:Winlex
Jump to navigation
Jump to search
I finally figured out what to talk about. I am always looking for new novels so shoot me recommendations. Please check my reading list first. It really is a waste of time to recommend books I have already read or am reading.
I guess you can also use this space to complain if I mess something up, though i would hope with your complaints, you explained why.
Recommendations
[
edit
]
Why not try Madan no Ou to Vanadis its a good novel and its being translated frequently? --Mytsy (talk) 14:10, 19 September 2013 (CDT)
Synopsis looks right up my alley so I will check it out. Not too crazy about the first few volumes being previews but if it's understandable, I'll read it. Winlex (talk) 15:28, 20 September 2013 (CDT) U should continue with this and Madan no Ou to Vanadis
File 13: Complaints Department
[
edit
]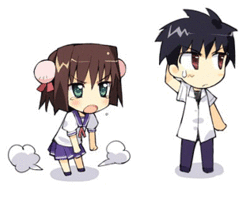 Site changes
[
edit
]
Please refrain from adding volumes which have neither been started nor a TL to start on. Also please don't destroy my volume-display-code. Overall it'd be much appreciated if you'd ask a supervisor (inaban or I) before you make changes on the OniAi page. Thank you. -cautr (talk) 04:04, 29 October 2013 (CDT)
No problem, I had a feeling I went a bit overboard and was actually about to write you. I will be sure to write you before changing anything in the future. Winlex (talk) 04:17, 29 October 2013 (CDT)
No harm done, as stated by Cautr please let me or him know before adding anything, as Cautr has sneaky wiki tricks he uses. You're more than welcome to help out with editing/TLC what have you if you're capable, just drop me or Cautr a line if interested. --Inaban (talk) 05:22, 29 October 2013 (CDT)
Why not? Just go ahead, you can also do any major editing if you want to. Thanks for taking the trouble to help me then.--TJYYEO (talk) 07:59, 25 April 2014 (CDT)
My fellow Editor - thank you for helping me editing this series, I just wanted you to pay attention to the Format Standards :- All edited translations are to be in British English --Yoyoyo5678 (talk)
I will try to be more mindful of the differences between American English and British English.--Winlex (talk) 15:22, 13 May 2014 (CDT)
Good morning/evening. I've been making some significant edits to the SnRK translation, but I wanted to run them through you before posting. I've talked to Yoyoyo on the forums already. Please let me know if you wish to proceed. --Nscorz (talk) 02:55, 31 October 2015 (GMT)
If you've already cleared it with Yoyo, that's good enough for me. Winlex (talk) 05:18, 1 November 2015 (UTC)
Thanks for sending me a message. I didn't know if there were still any people active on that project, but it's good to know that there is. I'll be picking up the pace once I get accustomed to it. Thanks for your work on the layout too, it looks like it's all set up to go. zxzxzxz (talk) 04:32, 28 February 2016 (UTC)
That's correct, it had already been fixed on the page, but not on the wiki. That's what I get for living in a 24hr system country. -cautr (talk) 08:28, 3 November 2014 (CST)
Ok, I just was making sure -Winlex (talk) 09:51, 3 November 2014 (CST)
Code Tester Feedback
[
edit
]
Feel free to post comments on the new formatting here. -- Winlex (talk) 20:45, 15 May 2015 (CDT)
Novel list
[
edit
]
In your list, Utsuro no Hako to Zero no Maria should be moved to Recycle Bin (unless you haven't read the 7th yet, in which case it belongs to the cabinet)--Kemm (talk)
Actually, I'm in the process of reading Volume 7. But now that you mention it, I really need to update the reading list. Thanks for looking out. -- Winlex (talk)
Proofreading watchlist
[
edit
]
I went over volume 5 chapter 4 of majika swordsman and summoner. I tried to keep edits to a bare minimum.