Asobi ni Iku yo!
Jump to navigation
Jump to search
Project Status: HALTED

This project has not been updated in the past 12 months.
Help revive this project by joining the translation team! — Learn more about Baka-Tsuki activity status.
| | |
| --- | --- |
| | This Teaser Project has not yet reached Full Project status requirements. |
Help this project out by joining the translation team! — Learn more about Full Project Approval Requirements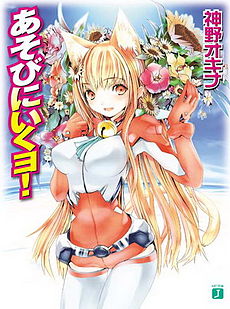 .
Story Synopsis
[
edit
]
"I'm coming to your house to play!" Meet Eris a cosplaying, (or is she???), cutie with neko-mimi that happens to show up at a funeral for a member of Kio Kakazu's family. Enter Kio's Uncle who pushes the two in the right direction…now add the fact that she's not cosplaying, she's actually a cat-eared alien being chased by multiple governments and multiple agencies within those governments, all wanting her for a different reason, and oh—by the way, she's not the only one coming over to play! Kio's seemingly normal life with supposedly normal friends turns inside out and as it gets more and more complicated, the question is, who's top dog? (er,...um...cat!).
Series Information
[
edit
]
Genre: Sci-fi, Fantasy
Original Title: あそびに行くョ!
English Anime Title: Cat Planet Cuties!
Author: Kamino Okina
Illustrator: Houden Eizou (v1-14), Nishieda (v15+)
Published Volumes: 17
Series Status: Ongoing
Translation
[
edit
]
Japanese to English
Format Standards
[
edit
]
Every chapter (after editing) must conform to the general format guidelines.
Translators are asked to register the chapters they want to work on.
Feedback Thread
[
edit
]
If you enjoyed the translation, why don't you tell us at the forum.
Updates
[
edit
]
August 17, 2013 -Prologue complete
August 3, 2013 -Project initiated
The Asobi ni Iku yo! series by Kamino Okina

[

edit

]
Volume 1
[
edit
]
Volume 2
[
edit
]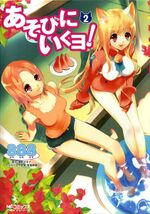 Project Staff
[
edit
]
Project Administrator:
Project Manager: 黒狐
Translators
[
edit
]
Active
Editors
[
edit
]
Series Overview
[
edit
]
あそびにいくヨ! 01 (MF文庫J) (October 25, 2003 - ISBN: 4-8401-0861-7)
あそびにいくヨ! 02 (MF文庫J) (February 25, 2004 - ISBN: 4-8401-1035-2)
あそびにいくヨ! 03 (MF文庫J) (May 25, 2004 - ISBN: 4-8401-1090-5)
あそびにいくヨ! 04 (MF文庫J) (August 25, 2004 - ISBN: 4-8401-1135-9)
あそびにいくヨ! 05 (MF文庫J) (November 25, 2004 - ISBN: 4-8401-1174-X)
あそびにいくヨ! 06 (MF文庫J) (April 25, 2005 - ISBN: 4-8401-1252-5)
あそびにいくヨ! 07 (MF文庫J) (August 25, 2005 - ISBN: 4-8401-1408-0)
あそびにいくヨ! 08 (MF文庫J) (December 22, 2005 - ISBN: 4-8401-1469-2)
あそびにいくヨ! 09 (MF文庫J) (September 25, 2006 - ISBN: 4-8401-1597-4)
あそびにいくヨ! 10 (MF文庫J) (May 25, 2007 - ISBN: 978-4-8401-1844-6)
あそびにいくヨ! 11 (MF文庫J) (May 25, 2008 - ISBN: 978-4-8401-2310-5)
あそびにいくヨ! 12 (MF文庫J) (March 25, 2009 - ISBN: 978-4-8401-2486-7)
あそびにいくヨ! 13 (MF文庫J) (January 25, 2010 - ISBN: 978-4-8401-3161-2)
あそびにいくヨ! 14 (MF文庫J) (June 25, 2010 - ISBN: 978-4-8401-3429-3)
あそびにいくヨ! 15 (MF文庫J) (March 23, 2012 - ISBN: 978-4-8401-4527-5)
あそびにいくヨ! 16 (MF文庫J) (October 25, 2012 - ISBN: 978-4-8401-4817-7)
あそびにいくヨ! 17 (MF文庫J) (February 25, 2013 - ISBN: 978-4-8401-4994-5)
あそびにいくヨ! 18 (MF文庫J) (December 31, 2013 - ISBN 978-4-0406-6160-5)