Baka to Tesuto to Syokanju - Italiano
Jump to navigation
Jump to search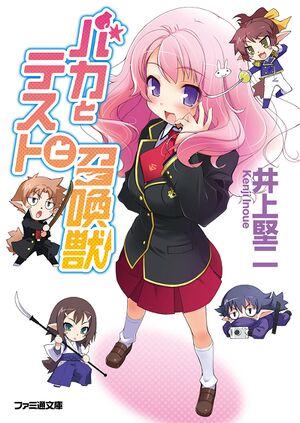 Baka to test to shōkanjū (バカとテストと召喚獣 Baka to tesuto to shōkanjū?, lett. "Scemi, esami ed evocazioni"), spesso abbreviato in Bakatesto, è una serie di light novel scritta da Kenji Inoue e illustrata da Yui Haga, la cui pubblicazione è iniziata il 29 gennaio 2007 e si è conclusa il 30 novembre 2013.
Un adattamento a manga illustrato da Mosuke Mattaku è stato serializzato sulla rivista Shōnen Ace, edita da Kadokawa Shoten, a partire dal 25 aprile 2009. Una serie televisiva anime in due stagioni è stata prodotta da Media Factory e animata da Silver Link con la regia di Shin Ōnuma. La prima stagione è stata trasmessa dal 7 gennaio al 31 marzo 2010, mentre la seconda dall'8 luglio al 30 settembre 2011.
La serie è completa e composta da un totale di 18 volumi. C'è anche un capitolo extra in collaborazione con l'autore della serie 'Lady!? Steady, GO!!'

Baka to Test to Shoukanjuu è disponibile anche nelle seguenti lingue:
In una speciale scuola dove i voti prendono forma virtuale e gli studenti possono combattere contro di loro, vige una regola spietata. Se l'esame viene lasciato a metà o incompleto si ottiene sempre il punteggio più basso. Così una ragazza intelligente e brillante come Mizuki Himeji, rimasta malata durante gli esami, si trova di colpo catapultata nella peggior sezione (la sezione F), al livello dei peggiori elementi della scuola! Abituata alla sezione A, dove agli studenti era concesso ogni genere di confort e lusso, Mizuki si trova ora in un ambiente sudicio, un'aula coi vetri rotti e col pavimento fatto di vecchi tatami. Per conquistare i beni di prima necessità da ora sarà guerra alla sezione A!
Traduzione
[
edit
]
Coloro che desiderano contribuire sono pregati di avvertire prima un supervisore. I traduttori che postano su B-T devono avvisare su quali capitoli stanno lavorando.
Updates
[
edit
]
5 Marzo 2016: Creazione della Pagina
5 Marzo 2016: Primo capitolo disponibile
La serie Light Novel 'Baka to Test to Shoukanjuu'
[
edit
]
Volume Due
[
edit
]
Volume Tre
[
edit
]
Volume Quattro
[
edit
]
Volume Cinque
[
edit
]
Volume Sei
[
edit
]
Volume Sette
[
edit
]
Volume Otto
[
edit
]
Volume Nove
[
edit
]
Volume Dieci
[
edit
]
Volume Undici
[
edit
]
Volume Dodici
[
edit
]
Volume Tredici
[
edit
]
Volume Quattordici
[
edit
]
Volume Quindici
[
edit
]
Volume Sedici
[
edit
]
Volume Diciasette
[
edit
]
Volume Diciotto
[
edit
]
Traduttori
[
edit
]
ATTIVI:
Editors
[
edit
]
ATTIVI: