Infinite Stratos
From Baka-Tsuki
̣
Note: This Project has been declared as Abandoned!
and was taken down.




Please see Template:Abandoned for further information about this classification.
This series has been licensed by J-Novel Club (February 27, 2018).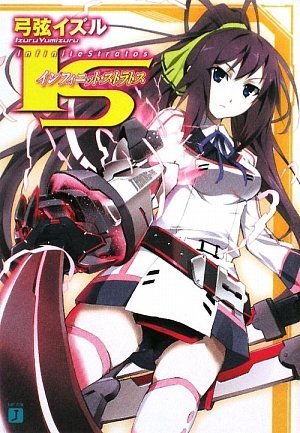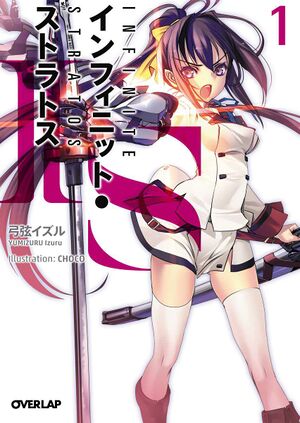 The Infinite Stratos series is also available in the following languages:
IS <Infinite Stratos> (IS〈インフィニット・ストラトス〉 IS <Infinitto Sutoratosu>?) is a Japanese light novel series by Izuru Yumizuru with illustrations provided by Okiura for volumes 1-7 and CHOCO for volumes 8 and onwards (as well as the re-release of 1-7 with new covers). As of April 2011, 7 volumes have been published by Media Factory under their MF Bunko J label. From Volume 8, they will be published by Overlap under their Overlap Bunko label. A manga adaptation by Kenji Akahoshi started serialization in the seinen manga magazine Monthly Comic Alive from May 27, 2010 to July 27, 2012. The rebooted manga is curently being puplished on Monthly Sunday Gene-X with the illustration of Homura Yuuki. An anime adaptation aired in Japan from January 6 to March 31, 2011, with the second season ran from October 3 to December 19, 2013.
Story Synopsis
In the near future, a Japanese scientist engineers a powered exoskeleton called "Infinite Stratos" (IS). Possessing technology and combat capabilities far more advanced than any other weapon system, the IS threatens to destabilize the world. Faced with such an overpowering weapon, the nations of the world enact the "Alaska Treaty", which states that IS will never be used for military combat and that existing IS technology must be equally distributed to all nations, to prevent any one nation for dominating the others. The introduction of the IS does however have a major effect on society. As IS can only be operated by women, the power balance between men and women is broken, with women coming to dominate society over men.
Ten years after the first IS were introduced, the world has entered a new age of peace. The peace is shattered, however, by an unexpected discovery. A 15 year old Japanese boy, named Ichika Orimura, is discovered to be capable of operating an IS. Realizing the potential, Ichika is forced by the Japanese government to attend the prestigious Infinite Stratos Academy, an international academy where IS pilots from all over the world are trained. Thus his busy school life surrounded by girls begins.
Character Introduction
Please Note: Clicking on the pictures will direct you to the Infinite Stratos Wiki for further information, but beware of spoilers.
Main Characters
Other Characters
Natasha Fairs (ナターシャ・ファイルス, Natāsha Fairusu)

A U.S. Representative Cadet. She was the test pilot for the [Silver Gospel], an IS co-built with Israel.
Tatenashi Sarashiki (更識 楯無, Sarashiki Tatenashi)

The Student Council President of the IS Academy. She is the most powerful IS pilot in the Academy, as the position of Student Council President is only given to the strongest IS Academy student. She's the 17th leader of the Sarashiki Family and the IS Representative of Russia. She is the pilot of the 3rd Generation IS [Mysterious Lady].
Kanzashi Sarashiki (更識 簪, Sarashiki Kanzashi)

is a 1st year student at the IS Academy in Class Four, younger sister of the Student Council President, Tatenashi Sarashiki and the IS Representative Candidate of Japan, She is also a complete opposite of her older sister, She also wears a pair of glasses. She is the pilot of [Uchigane Nishiki], a custom IS she made by upgrading an [Uchigane] from the Academy.
The IS <Infinite Stratos> series by Izuru Yumizuru
Side Stories
Blu-Ray DVD 1 Story (Full Text)
Courtesy of Nandeyanen and Hayate from Life4Kaoru.
Blu-Ray DVD 3 Story (Full Text)
Project Staff
Translators
ACTIVE
MIA
Teh Ping (Wanted to say 'Finish the Fight', but there isn't any fight here...)
RETIRED
Editors
All editors that speak English proficiently are welcomed.
ProxY(Please email me if there is work to be done.)
Proofreaders
Series Overview
IS〈インフィニット・ストラトス〉 (Infinite Stratos) Volume 1 (May 25, 2009, ISBN 978-4-8401-2788-2)
IS〈インフィニット・ストラトス〉 (Infinite Stratos) Volume 2 (August 25, 2009, ISBN 978-4-8401-2870-4)
IS〈インフィニット・ストラトス〉 (Infinite Stratos) Volume 3 (December 25, 2009, ISBN 978-4-8401-3086-8)
IS〈インフィニット・ストラトス〉 (Infinite Stratos) Volume 4 (March 25, 2010, ISBN 978-4-8401-3179-7)
IS〈インフィニット・ストラトス〉 (Infinite Stratos) Volume 5 (June 25, 2010, ISBN 978-4-8401-3428-6)
IS〈インフィニット・ストラトス〉 (Infinite Stratos) Volume 6 (December 24, 2010, ISBN 978-4-8401-3516-0)
IS〈インフィニット・ストラトス〉 (Infinite Stratos) Volume 7 (April 8, 2011, ISBN 978-4-8401-3856-7)
IS〈インフィニット・ストラトス〉 (Infinite Stratos) Volume 8 (April 25, 2013, ISBN 978-4-906866-12-0) (Special CD Edition: ISBN 978-4-906866-04-5)
IS〈インフィニット・ストラトス〉 (Infinite Stratos) Volume 9 (April 25, 2014, ISBN 978-4-906866-36-6)
IS〈インフィニット・ストラトス〉 (Infinite Stratos) Volume 10 (July 25, 2015, ISBN 978-4-86554-046-8)