Ore no Nounai Sentakushi ga, Gakuen Love Come o Zenryoku de Jama Shiteiru
Jump to navigation
Jump to search
Project Status: STALLED

This project has not been updated in the past 6 months.
Help revive this project by joining the translation team! — Learn more about Baka-Tsuki activity status.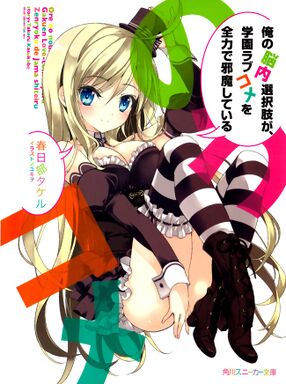 The light-novel series Ore no Nounai Sentakushi ga, Gakuen Love Come o Zenryoku de Jama Shiteiru (俺の脳内選択肢が、学園ラブコメを全力で邪魔している, short "NouCome", lit. "My Mental Choices are Completely Interfering with my School Romantic Comedy") is written by Takeru Kasukabe, illustrated by Yukiwo and published by Kadokawa Shoten. As of February 1, 2016, the series has concluded at 13 volumes (Volume 11.5 included). It also has a manga and anime adaption. The anime, consisting of 10 episodes, aired from October 9th 2013 to December 11, 2013. The manga has been running in Famitsu Comic Clear since Febuary 1st, 2013.
Story Synopsis
Kanade Amakusa is a high school student who is suffering from a curse called "Absolute Choices" (絶対選択肢, Zettai Sentakushi). This curse requires him to select an action from a list of two or three options that appear before him at any time, and has no control over what choices appear. Many of them are weird or perverse and as a result, the curse has tainted his reputation with his classmates and other people around him, making his life very difficult. However, one day, a choice he makes on his way home from school causes a mysterious, beautiful young girl to fall from the sky. Amakusa discovers that she was sent from the God World to assist him in completing a series of missions given to him directly by God himself. After completing these missions, the "Absolute Choices" curse will be lifted from Amakusa; but should he fail in completing any of the missions, he will be stuck with the curse forever.
Updates
February 19th, 2015 - Volume 3 Completed
February 15th, 2015 - Volume 3 Chapter 4 completed & Interlude 4
February 3rd, 2015 - Volume 3 Chapter 3 completed & Interlude 3
January 10th, 2015 - Volume 3 Chapter 2 completed & Interlude 2
December 24th, 2014 - Volume 3 Chapter 1 completed & Interlude 1
December 6th, 2014 - Volume 3 Prologue completed
November 25th, 2014 - Volume 2 Interlude 1, 2, 3, 4 completed
November 4th, 2014 - Volume 1 Afterword completed
November 3rd, 2014 - Volume 1 Chapter 3 and Epilogue completed
October 7th, 2014 - Volume 1 Interlude 2 and 3 completed
Older updates can be found here.
Formalities
Those who wish to contribute are asked to first notify a supervisor beforehand.
Translators are asked to register which chapters they're working on.
Format Standards
Every chapter must after editing conform to the general format guidelines.
Changes to Main Page
Before making changes to the main page, please ask a person in charge.

If you enjoyed the story, why don't you tell us in the Feedback Thread?


Project Staff
Translators
Editors
Series Overview
Ore no Nounai Sentakushi ga, Gakuen Love Come o Zenryoku de Jama Shiteiru 1 俺の脳内選択肢が、学園ラブコメを全力で邪魔している (February 1st, 2012) ISBN 978-4-04-100181-3
Ore no Nounai Sentakushi ga, Gakuen Love Come o Zenryoku de Jama Shiteiru 2 俺の脳内選択肢が、学園ラブコメを全力で邪魔している2 (June 1st, 2012) ISBN 978-4-04-100307-7
Ore no Nounai Sentakushi ga, Gakuen Love Come o Zenryoku de Jama Shiteiru 3 俺の脳内選択肢が、学園ラブコメを全力で邪魔している3 (November 1st, 2012) ISBN 978-4-04-100541-5
Ore no Nounai Sentakushi ga, Gakuen Love Come o Zenryoku de Jama Shiteiru 4 俺の脳内選択肢が、学園ラブコメを全力で邪魔している4 (April 1st, 2013) ISBN 978-4-04-100720-4
Ore no Nounai Sentakushi ga, Gakuen Love Come o Zenryoku de Jama Shiteiru 5 俺の脳内選択肢が、学園ラブコメを全力で邪魔している5 (June 29th, 2013) ISBN 978-4-04-100891-1
Ore no Nounai Sentakushi ga, Gakuen Love Come o Zenryoku de Jama Shiteiru 6 俺の脳内選択肢が、学園ラブコメを全力で邪魔している6 (October 1st, 2013) ISBN 978-4-04-101022-8
Ore no Nounai Sentakushi ga, Gakuen Love Come o Zenryoku de Jama Shiteiru 7 俺の脳内選択肢が、学園ラブコメを全力で邪魔している7 (January 31st, 2014) ISBN 978-4-04-101197-3
Ore no Nounai Sentakushi ga, Gakuen Love Come o Zenryoku de Jama Shiteiru 8 俺の脳内選択肢が、学園ラブコメを全力で邪魔している8 (June 1st, 2014) ISBN 978-4-04-101432-5
Ore no Nounai Sentakushi ga, Gakuen Love Come o Zenryoku de Jama Shiteiru 9 俺の脳内選択肢が、学園ラブコメを全力で邪魔している9 (October 1st, 2014) ISBN 978-4-04-101697-8
Ore no Nounai Sentakushi ga, Gakuen Love Come o Zenryoku de Jama Shiteiru 10 俺の脳内選択肢が、学園ラブコメを全力で邪魔している10 (April 1st, 2015) ISBN 978-4-04-101696-1
Ore no Nounai Sentakushi ga, Gakuen Love Come o Zenryoku de Jama Shiteiru 11 俺の脳内選択肢が、学園ラブコメを全力で邪魔している11 (August 1st, 2015) ISBN 978-4-04-103541-2
Ore no Nounai Sentakushi ga, Gakuen Love Come o Zenryoku de Jama Shiteiru 11.5 俺の脳内選択肢が、学園ラブコメを全力で邪魔している11.5 (January 1st, 2015) ISBN 978-4-04-103956-4
Ore no Nounai Sentakushi ga, Gakuen Love Come o Zenryoku de Jama Shiteiru 12 俺の脳内選択肢が、学園ラブコメを全力で邪魔している12 (February 1st, 2016) ISBN 978-4-04-103542-9