Saijaku Muhai no Bahamut
From Baka-Tsuki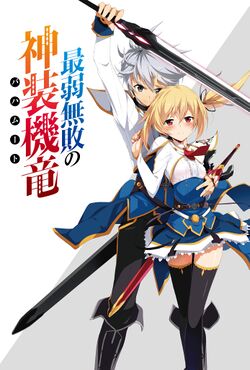 Saijaku Muhai no Bahamut (最弱無敗の神装機竜《バハムート》), also known as Undefeated Bahamut Chronicle, is a light novel series written by Akatsuki Senri and illustrated by Kasuga Ayumu.

The Campione! series is also available in the following languages:
Story Synopsis
Synopsis (Taken from Volume 1)

Lux, who was a prince from the Empire that was destroyed five years ago due to the revolt, met with the princess of the new Kingdom, Lizsharte, by accidentally breaking into the bathroom of the girl's dormitory.

"……How long are you planning to stare at my body, you fooooool!"

The ancient weapons found from the ruins, the Drag-Ride. Lux who was called the strongest Drag-Knight in the past was now known as the "Weakest Undefeated", a Drag-Knight who doesn't attack at all. After the duel that started by the challenge from Lizsharte, Lux ended up entering the girls' school that raised Drag-Knights……!

Lux's story where he is surrounded by the noble girls from the academy is about to unfold.

The "ultimate" academy fantasy battle where the right and the might cross paths now begins! (Story Synopsis taken from Volume 1 cover.)
Series Information
Genre: Mecha + Fantasy + Harem + School Life
Original Title: Saijaku Muhai no Bahamut
Author: Akatsuki Senri
Illustrator: Kasuga Ayumu
Series Status: Ongoing
*Name change: Kurulucifer to Krulcifer (edits will be made to all volumes soon)
Translation
Translators are asked to Register the chapters they want to work on.
Format Standards
Every Chapter (after editing) must conform to the general format guidelines.
Feedback
If you enjoyed the series, why don't you tell us in the Feedback Thread
Updates
March 30, 2014 - Teaser created (Prologue + Episode 1(Part 1 and Part 2)) completed
September 08, 2014 - Volume 1 completed
October 20, 2014 - Volume 2 completed
Saijaku Muhai no Bahamut series by Akatsuki Senri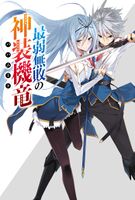 Volume 3
Prologue - On The Far-Off Sky
Episode 1 - The Return of The Strongest
Episode 2 - School Life and Her Speculations
Episode 3 - Campus Selection Battle
Episode 4 - The Girl's Truth
Episode 5 - The Weakest vs. The Strongest
Epilogue - A New Daily Life and The Beginning
Volume 4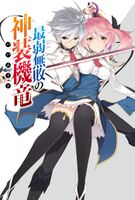 Prologue - The Beginning of Everything
Episode 1 - Training Camp
Episode 2 - A Special Mission
Episode 3 - Encounter
Episode 4 - Awakening of Abyss
Episode 5 - The Night of Betrayal
Epilogue - Promise
Volume 5
Prologue - The Girl's Long Cherished Desire
Episode 1 - The Empire's Assassin
Episode 2 - Night before the Overall Dragon Competition
Episode 3 - The Girls' Recompense
Episode 4 - The Fifth Artifact Gigas
Epilogue - The Empire's Whereabouts
Project Staff
Translators
Active
Editors
Active
Series Overview
Saijaku Muhai no Bahamut 1 (August 12, 2013)
Saijaku Muhai no Bahamut 2 (November 15, 2013)
Saijaku Muhai no Bahamut 3 (March 17, 2014)
Saijaku Muhai no Bahamut 4 (July 15, 2014)

Saijaku Muhai no Bahamut 4 Limited Edition(July 15, 2014)

Saijaku Muhai no Bahamut 5 (December 15, 2014)