Seirei Tsukai no Blade Dance ~Polski~
Jump to navigation
Jump to search
| | |
| --- | --- |
| | This Teaser Project has not yet reached Full Project status requirements. |
Help this project out by joining the translation team! — Learn more about Full Project Approval Requirements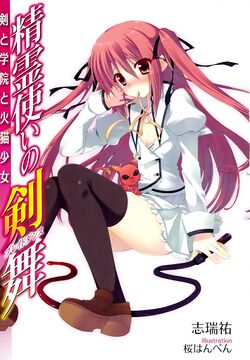 Seirei Tsukai no Blade Dance (精霊使いの剣舞 / Taniec ostrzy władców dusz) jest serią light novel napisana przez Shimizu Yuu początkowo ilustrowaną przez Sakura Hanpen. Z powodu złego stanu zdrowia Sakura Hanpen nie była w stanie dalej ilustrować serii, z tego powodu Nimura Yuuji, ilustrator Leviathan of the Covenant, zajmuje się tym od tomu 14 (źródło, Artykuł w języku angielskim).
Wydawana jest przez MF Bunko J, seria aktualnie liczy 15 tomów.
Wyprodukowana przez TNK, dwunasto-odcinkowa adaptacja anime została wypuszczona w trakcie letniego sezonu 2014 roku. Przedstawiała wydarzenia przedstawione w tomach 1-3.
Seria Seirei Tsukai no Blade Dance jest też dostępna w poniższych językach:
Wprowadzenie
[
edit
]
Tylko panna czystego serca może dostąpić przywileju zawarcia kontraktu z duchem. W Duchowej Akademii Areishia zbierają się dziewczęta należące do szlacheckich rodów by, otrzymując najlepszą możliwą edukację, stać się władcami dusz. Pewnego dnia chłopak o imieniu Kamito przypadkowo podejrzał Clair, kiedy ta brała kąpiel i, kolejnym przypadkiem, zawarł kontrakt z duchem, którego ta wcześniej sobie upatrzyła. Tak, nasz bohater jest odmieńcem, wyjątkiem od reguły – to jedyny przedstawiciel płci męskiej będący magiem dusz, mimo iż coś takiego nie jest możliwe. "Ty… Ukradłeś moją duszę… musisz ponieść odpowiedzialność za to co zrobiłeś!" "Co?" "Masz stać się moja zaprzysiężoną duszą!" Gdzie pokieruje Kamito jego przeznaczenie?
Tłumaczenie
[
edit
]
Ostatnie aktualizacje
18/02 2016r- Tom 1
Standard formatu
Każde tłumaczenie po korekcie powinno spełniać te reguły.
Rejestracja
Jeżeli ktokolwiek będzie miał zamiar tłumaczyć to niech najpierw skontaktuje się ze mną(1, 2)
Pilnie poszukiwany korektor.
Opinie i Komentarze
Aktualna Ekipa
[
edit
]
Administrator Projektu - Kamil118
Zespół 1.
Kamil118 - Tłumacz Angielsko-Polski
Demi - Korekta
Zespół 2.
Seirei Tsukai no Blade Dance
[
edit
]
Tom Pierwszy- Miecz, Akademia i Dziewczyna z Ognistym Kotem