HEAVY OBJECT:Volume13 Track 1
Jump to navigation
Jump to search
Track 01: Welcome Fallen Baby
[
edit
]
"…ce Girl 1… Repeat, Ice Horse 3 to Ice Girl 1! Commander!! Get your hand back on the stick right this instant, you rock addict!!"
Her vision was pure white. Eyes open or closed, that remained the same and a piercing pain ran through her temples. Mariydi Whitewitch felt like she was staring directly into a car's headlights. She felt dizzy and badly nauseous, but her pride as a fighter pilot held the acidic mass down in her throat. Her fingertips would not stop trembling and she could not wipe away the beads of sweat that dripped from her forehead to her eyelids.
The deep tones of hard rock blasted around her.
It was all due to that laser light. Her fighter was meaninglessly rolling like a screw.
She was a young girl of only 12. She had long, flowing blonde hair and a body too small to be called adolescent. Just like a racehorse jockey, a fighter pilot was one of the few jobs in the military where a small height and weight were preferred, but anyone who saw this ace would wonder if they really had to shrink their pilots down this far.
She wore a skintight yellow special suit that showed off her undeveloped bodylines and she did not wear an oxygen mask over her nose and mouth like a normal pilot. Her strange outfit likely fulfilled the requirements for assisting with the research and development of the Pilot Elites of the nuke-resistant colossal weapons known as Objects.
The inertial Gs of a fighter were more powerful the more weight one had, so the military actually welcomed smaller pilots because they could endure higher Gs. That said, she was far too small. She could never have endured it without the experimental bodily development techniques from the survivability research meant for use in developing the Object Pilot Elites.
(Damn…it. My eyes…)
She pushed back the dizzying headache and focused on the storm of buzzers filling the cockpit.
(It's more than just laser light. Just as I thought a strange centrifugal force was gathering the blood in my head, a spasm must have hit my arms and knocked them into a bunch of levers and switches. I don't remember activating any of these buzzers!)
She finally shook free of the light's afterimage. Forcibly grabbing the control column with all these messed-up values in place would only increase the risk of a stall, so Mariydi started by flicking the input devices back to their normal settings. There were nearly 100 of them lined up like an editing studio's mixing board, but she made sure to complete all that before grabbing the control column.
Even with all that, it only took her a few dozen seconds, but a single second meant hundreds of meters in a fighter. She had only looked away for a bit, but a glance at the radar showed the 3 other members of her squadron were quite far away. Even a low estimate said she was more than 50 kilometers away. She had clearly flown out of the mission airspace (MA) and one of the "correct" buzzers led her to look out through the clear canopy. She found half her right wing missing and a trail of black smoke behind her.
"Damn! Did those stupid settings activate the afterburner!?"
"Ice Sword 2 to Ice Girl 1. We'd love to assist, but you're in range of that Thor's Hammer. We can't get in through that ocean of light!!"
She could not recover.
The area below was effectively controlled by the enemy Information Alliance.
She somehow managed to escape her tailspin, but she doubted she could make it back to the airbase (AB).
Abandoning the fighter and bailing out was her only option, but that descent would take her to a hell with enemy soldiers in every direction.
"Ice Girl 1 to Ice Sword 2. You take over command. And can I trust the dots on my radar? Ice Burn 4, are your eyes okay? I'm not letting you use this to retire!"
"…Dammit, we knew this was here. If we'd focused on the display and alarm, no one would've been caught by it!!"
When she heard that tearful complaint of a young man more than 10 years her senior, Mariydi clicked her tongue because her colleague could not even make the bare minimum of a report. But there was a slight smile in her eyes.
The high-precision surface-to-air missile (SAM) network known as the Thor's Hammer had stolen the skies of the final special zone. That grim reaper was also known by the contradictory name of the "sky landmine". It launched more than 30 missiles at once, blinded all residents of the sky from outside their effective field of vision, and then took a variety or routes to cut off its targets' escape and slaughter them like a predator's maw. It induced blindness, headaches, and various sensor malfunctions using the planetarium-like disturbance armament attached to the missile head. Basically, it was a high power version of the prank where people used laser pointers to blind pilots. Their sharp guidance was enough of a problem, but these missiles specialized in slowing the enemy's reactions before hitting them.
They had been informed of its presence in advance, but there had been an error in the deployment location displayed on the radar. Ice Burn 4 had been blinded by the disturbance lasers because he had looked back in fear first. They had been surrounded and a few of the missiles had been impossible to dodge. Mariydi had been in position to cover for the others, so she had scattered all of her regular gun's bullets toward the missiles targeting her colleagues and shot them down with what seemed like divine skill. However, focusing her eyes on them and getting so close had come back to bite her.
The current state was the result.
She had moved within the effective destructive range and one of the missiles she had blown up had damaged her main wing. She may have been lucky the entire fighter did not break apart in midair, but it was not over yet.
It had only taken a few dozen seconds for Mariydi to fight the nearly 100 switches and levers her spasm had knocked out of place, return the settings to normal after the laser attack, and slowly grab the control column again, but her fighter had continued forward all the while. Thanks to that, she had moved deep into the minefield.
And once it was ready to fire, the Thor's Hammer would attack once more. They were fine with firing 30 missiles costing 20,000 dollars each to shoot down a single fighter. And with the way the missiles pursued the fighter, they might damage the pilot's cornea. That experimental weapon had terrible cost performance, but it would once more launch its violent lights into the heavens like a floor of evil light rising from all across the green-covered earth, precipitous mountains, half-crumbled elevated highway weaving among those mountains, and jagged fjords that surrounded it all.
She barely had control and she could not have dodged them all even if she did.
Mariydi bit her lip in humiliation, taped a thin flash memory music player to her belly, slowly sighed, and then made a report.
"Ice Girl 1 to all. I'm bailing out."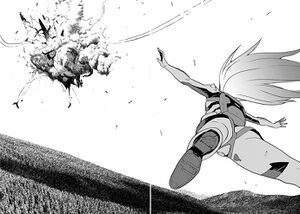 "Ice Horse 3. Understood. We'll be right back with the cavalry to search for you, so don't you die down there, commander."
She used both hands to grab the large lever between her legs.
The last words she heard resonated in her heart more than the hard rock she so loved.
"Welcome to the Northern Restricted Zone, Ice Girl 1."
When she yanked on the lever, explosives blew away the canopy's joints, allowing it to be blown backwards. Right after Mariydi's small body was ejected upwards along with her seat, the SAMs approaching from seemingly every angle tore into the fighter.
Even so, letting the standard sensor open the parachute was a mistake.
The double structure of silk opened too close to the blast and countless shards sharper than razor blades shredded the parachute.