Kara no Kyoukai - Français
From Baka-Tsuki
| | |
| --- | --- |
| | This Teaser Project has not yet reached Full Project status requirements. |
Help this project out by joining the translation team! — Learn more about Full Project Approval Requirements
Note: This Project has been classified as Stalled.




Please see Template:STALLED for further information about this classification.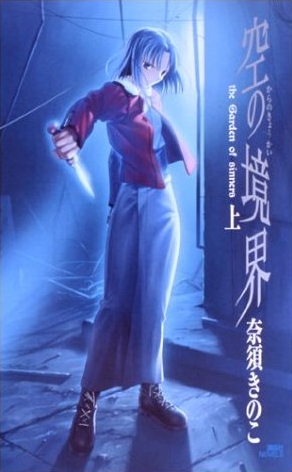 La série Kara no Kyoukai est aussi disponible dans les langues suivantes:
(Note: La progression de la traduction peut varier suivant les langues.)

Important : Ceux qui souhaitent traduire ou éditer le projet doivent IMPÉRATIVEMENT lire la partie "Traduction".
Historique
[
edit
]
Kara no Kyoukai ("空の境界") is a series of stories written by Kinoko Nasu (奈須きのこ) with illustrations by Takeshi Takeuchi (武内崇).
The first five chapters were posted online on Nasu and Takeuchi's dojin website "Takebouki (竹箒)" starting Oct 1998, and the last two chapters being released at Comiket 56 in 1999. In 2001, part of the story was included in "Tsukihime PLUS-DISK (月姫PLUS-DISC)," created by TYPE-MOON, the doujin circle Nasu and Takeuchi joined. The story gained huge popularity, and the doujinshi edition of the stories saw release on December 30, 2001 at Comiket 61.
Additional information about the light novel can be found here.
Traduction
[
edit
]
Cette partie doit être lue par tous les traducteurs et éditeurs du projet.
Les traducteurs doivent s'enregistrer sur le lien ci-dessus.
Chaque chapitre doit se conformer aux règles ci-dessous après édition :
Feedback - Forum
[
edit
]
Une remarque ou un remerciement ? Vous voulez participer au projet ? Venez en parler sur le forum.
Actualités
[
edit
]
Kara no Kyoukai par Kinoko Nasu

[

edit

]
1/Panorama - Fujoh Kirie | 1/俯瞰風景 - Fujoh Kirie
[
edit
]
2/Murder Study (Part 1) - Ryougi Shiki | 2/殺人考察(前) - Ryohgi Siki: ...and nothing heart.

[

edit

]
Staff du projet
[
edit
]
Le staff est validé par le superviseur ou le manager du projet.
Superviseur et manager de la version anglaise : Aucun
Superviseur : Aucun
Manager : Aucun
Traducteurs
[
edit
]
Seuls les traducteurs actifs peuvent traduire le projet.
Actifs :
Parutions
[
edit
]
新書
空の境界 上 (講談社ノベルス) - 8 juin 2004 - ISBN 978-4061823617
空の境界 下 (講談社ノベルス) - 8 juin 2004 - ISBN 978-4061823624
文庫
空の境界(上) (講談社文庫) - 15 Novembre 15 2007 - ISBN 978-4062758925
空の境界(中) (講談社文庫) - 14 Décembre 2007 - ISBN 978-4062759205
空の境界(下) (講談社文庫) - 16 Janvier 2008 - ISBN 978-4062759465
Sources
[
edit
]