Mushoku Tensei
Jump to navigation
Jump to search
Note: This Project has been declared as Abandoned!
and was taken down.




Please see Template:Abandoned for further information about this classification.
This series was licensed by Seven Seas on July 9th, 2018.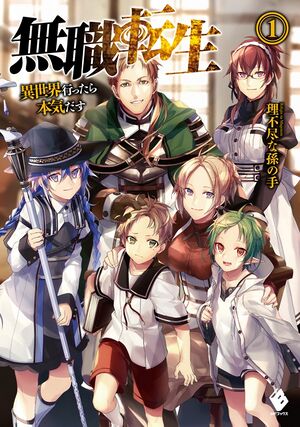 "Mushoku Tensei -Isekai Ittara Honki Dasu-" (無職転生 ~異世界行ったら本気だす~) is web novel a written by Rifujin na Magonote. There is also a light novel with illustrations by Shirotaka. Currently ongoing, there are 24.5 volumes written by the author on his website and 10 volumes published by KADOKAWA / Media Factory. A manga based from the novel is serialized in Monthly Comic Flapper. The Web Novel has been completed. There are spin-offs of the web novel which the author has made. The spin offs are stories about some of the main characters after the end of the web novel.

The Main Story of the Mushoku Tensei web novel has now been concluded. A spinoff about the main character's child has also been added by the author.
Alternative Languages
The Mushoku Tensei is also available in the following languages:
Story Synopsis
A 34-year-old NEET otaku was chased out from his house by his family. This virgin, plump, unattractive, and penniless nice guy found that his life was heading towards a dead end. He recalled that his life could actually become much better if he can get over the dark history of his life.
Just when he was at the point of regret, he saw a truck moving at a high speed with 3 high school students in its path. Mustering all his strength, he saves them but ended up getting run over by the truck, which kills him.
The next time he opens his eyes, he had reincarnated to a world of swords and magic, as Rudeus Greyrat. Born to a new world and a new life, Rudeus declared, "This time, I'll really live my life to the fullest with no regrets!" Thus begins the journey of a newly made man. (Original from animesuki.com)
Character Introductions
Warning: May contain spoilers
!

I'll keep the spoilers to a minimum as I can:

NOTE: Due to katakana translation with unconfirmed English equivalent, the list here may differ from Mushoku Tensei Names and Terminology and from chapter-to-chapter as for a number of names the translators and editors have not come to a conclusion on which English name to use




Rudeus Greyrat

or Rudy, as his given nickname, is the main character, who is the reincarnated NEET loser who died, the twist is that his memories of his past life remained. His current body possesses high affinity for magic, even as a child (baby).

Paul Greyrat

Rudy's father, an accomplished swordsman. Currently works as swordsman who protects their village. He teaches Rudy swordsmanship.

Zenith Greyrat

Rudy's mother, she's a mage who seems to know healing magic.

Lilia

Greyrat's family maid. she's a former palace maid bodyguard. Her family's sword school was where Rudy's father studied at.




Roxy Migurudia

She is Rudy's magic tutor (during his 3-5 years of age), a talented mage from a demon race.

Sylphiette

Rudy's first friend of the same age (5 years old), whom Rudy saved from bullies. The reason was Sylphy's a mix of elf, human and beast.

Eris Boreas Greyrat

She is Rudy's older cousin, she's also his student, (at this time, when he's around age 7) he's supposed to teach her magic among other things such as math, reading, etc.
"Mushoku Tensei" by Rifujin na Magonote
Series Overview
無職転生 ~異世界行ったら本気だす~ 1 (January 23, 2014, ISBN 978-4-04-066220-6)
無職転生 ~異世界行ったら本気だす~ 2 (March 22, 2014, ISBN 978-4-04-066393-7)
無職転生 ~異世界行ったら本気だす~ 3 (May 23, 2014, ISBN 978-4-04-066755-3)
無職転生 ~異世界行ったら本気だす~ 4 (August 25, 2014, ISBN 978-4-04-066961-8)
無職転生 ~異世界行ったら本気だす~ 5 (October 24, 2014, ISBN 978-4-04-067130-7)
無職転生 ~異世界行ったら本気だす~ 6 (February 25, 2015, ISBN 978-4-04-067412-4)
無職転生 ~異世界行ったら本気だす~ 7 (August 25, 2015, ISBN 978-4-04-067759-0)
無職転生 ~異世界行ったら本気だす~ 8 (October 23, 2015, ISBN 978-4-04-067946-4)
無職転生 ~異世界行ったら本気だす~ 9 (January 25, 2016, ISBN 978-4-04-068046-0)
無職転生 ~異世界行ったら本気だす~ 10 (March 25, 2016, ISBN 978-4-04-068192-4)
無職転生 ~異世界行ったら本気だす~ 11 (May 25, 2016, ISBN 978-4-04-068347-8)
無職転生 ~異世界行ったら本気だす~ 12 (August 25, 2016, ISBN 978-4-04-068483-3)