On a Godless Planet
Jump to navigation
Jump to search
The On a Godless Planet (神々のいない星で) series is a web novel written by Kawakami Minoru (川上稔) and illustrated by Satoyasu (さとやす). It takes place between Owari no Chronicle and Kyoukai Senjou no Horizon, two of the author's light novel series. It conforms the EDGE series of the universe.
Story Synopsis
[
edit
]
Before Horizon, humanity ascended to the heavens, but how exactly did that happen? Kawakami's new series explores the Edge era in which legends must be recreated to reshape a distant planet.
Web Novel
[
edit
]
This web novel is currently hosted on Dengeki Bunko's Kakuyomu page.
Updates
[
edit
]
August 25, 2019 - On a Godless Planet: Planet Crafting with Senpai and Me 1-A completed
September 7, 2020 - On a Godless Planet: Planet Crafting with Senpai and Me 1-B completed
On a Godless Planet by Kawakami Minoru

[

edit

]
On a Godless Planet: Planet Crafting with Senpai and Me (1-A) (Full Text)

[

edit

]
On a Godless Planet: Planet Crafting with Senpai and Me (1-B) (Full Text)

[

edit

]
On a Godless Planet: Splashy Fun with Senpai and Me (2-A)
[
edit
]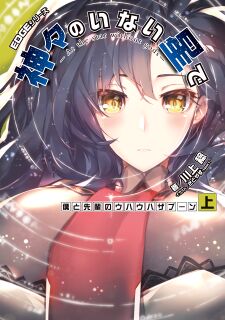 Chapter 5: Midnight Resistance
Chapter 6: Comix Zone
Chapter 7: Junction
Chapter 8: Gods
Chapter 9: Opa-Opa
Chapter 10: Death Bringer
Chapter 11: Zoom!
Chapter 12: Gain Ground
Chapter 13: Kageki
Chapter 14: Arrow Flash
Chapter 15: Junction 02
Chapter 16: Marvel Land
Chapter 17: Chiki Chiki Boys
Chapter 18: Gauntlet
Chapter 19: Chaotix
Chapter 20: Side Pocket
Chapter 21: Tempo 02
Afterword
On a Godless Planet: Splashy Fun with Senpai and Me (2-B)
[
edit
]
On a Godless Planet by Kawakami Minoru (Web Novel Version)

[

edit

]
Project Staff
[
edit
]
Supervisor:
Project Manager:
Translators
[
edit
]
ACTIVE
Editors
[
edit
]
ACTIVE