Ore no Imōto ga Konna ni Kawaii Wake ga Nai
From Baka-Tsuki
Note: This Project has been declared as Abandoned!
and was taken down.




Please see Template:Abandoned for further information about this classification.
The Ore no Imōto ga Konna ni Kawaii Wake ga Nai series is also available in the following languages:
(Note: Translation progress varies for each version.)
---
Ore no Imōto ga Konna ni Kawaii Wake ga Nai (俺の妹がこんなに可愛いわけがない, My Little Sister Can't Be This Cute) is a Japanese light novel series written by Tsukasa Fushimi, with illustrations by Hiro Kanzaki.
Story Synopsis
17-year old high school student Kousaka Kyousuke was at a cold-war with his little sister Kirino. They seldom talked and never had a proper conversation these past years. One day, Kyousuke accidentally finds a DVD case of a childish anime program titled "Stardust Witch Meruru." What surprised him more was the fact that inside the case was an R-18 Ero-game CD ROM. Things looked bad since the obvious suspect for having pornographic material such as that was HIM. (He did have some, but they were all magazines.) He didn't want to think what would happen if his mom or his scary father found out about that. Later, he learned that his little sister owned the DVD case (AND the CD ROM inside). She confessed to him that she liked, er, loved Imouto characters with great passion, enough that she'd bought tons of Imouto Ero-games and other Imouto-related items. To put it simply, he learned that she was an Imouto-only Otaku. Kyousuke had hard time believing that a "typical girl nowadays" such as his sister would turn out to be an Otaku. Now, Kirino wants Kyousuke to have a "life consultation" with her, which put an end to the peaceful life that Kyousuke was having.

You can tell us what you think of the series by polling here and discussing it here.
Updates
Translation
Those who wish to contribute are asked to first notify a supervisor beforehand via the forum.
Translators please register for chapters they want to work on
Format Standards
Every Chapter (after editing) must conform to the general format guidelines.
Drama CD Insert Commissioned Short Story Booklet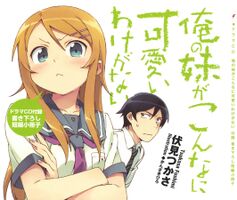 A Certain Clubroom's Fanatic
My Little Sister Can't Be This Cute Previous Day Tale
DVD Box Short Stories
The following DVD Box short story, 'I can't Possibly Ask for Life Counseling From My Brother', describes the perspective of Kirino covering a short portion of the events in Volume 1. It is a hosted translation with permission and credited to C.E Light Novels Translations. The translation is locked from edits on their request. Do visit their blog for other translation projects.
An Ending's Continuation
There's No Way My Black Haired Little Sister is This Cute
10 Year Reunion
A Certain Collaboration (Full Text)
A Chance Encounter


You can still tell us how you liked the teasers at the project thread in the forum.
Project Staff
Translators
ACTIVE
(External) NanoDesu
Fragment Traveler (translated "10 Year Reunion" & "A Chance Encounter" outside of Baka-Tsuki)
INACTIVE
A.F.K
Editors
ACTIVE
INACTIVE
Other Contributors
Series Overview
Series
Shorts