Mimizuku to Yoru no Ou PL
Jump to navigation
Jump to search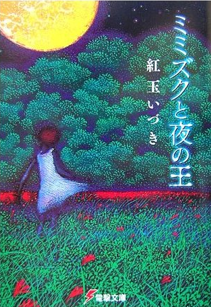 Mimizuku to Yoru no Ou (ミミズクと夜の王 Mimizuku i Król Nocy) - light novel autorstwa Kougyoku Izuki i przypuszczalnie jej pierwsza praca. Nowelka wygrała główną nagrodę na 13 konkursie Dengeki Novel. Jest to niezależna książka, jednakże autorka napisała również kontynuwację zatytułowaną Dokuhakihime to Hoshi no Ishi (毒吐姫と星の石 Księżniczka oddychająca trucizną i Gwieździsty Kamień).

Mimizuku to Yoru no Ou jest dostępna w następujących językach:
Opis fabuły
[
edit
]
Mimizuku, mała dziewczynka z łańcuchami na nadgarstkach i kostkach oraz z numerem "332" wypalonym na czole, przybywa do Lasu Nocy poszukując pragnącego ją pożreć potwora. Jednak gdy władca potworów, tajemniczy i piękny "Król Nocy", odmawia jej pochłonięcia, postanawia przekonać go w każdy możliwy sposób.
Aktualności
[
edit
]
26 grudnia 2015

Dodano Epilog
Dodano Słowo od autora
Dodano Komentarz
Zakończenie projektu

7 listopada 2015
22 sierpnia 2015
20 lipca 2014
2 kwietnia 2014
8 marca 2014
14 lutego 2014
26 stycznia 2014

Dodano prolog i 1 rozdział
Rozpoczęcie projektu
Mimizuku to Yoru no Ou autorstwa Kougyoku Izuki

[

edit

]
Mimizuku i Król Nocy
[
edit
]
Tłumaczenie:
Korekta:
Zapraszamy na bloga -> www.hazumi.xx.pl
Wydane tomy
[
edit
]
ミミズクと夜の王, ISBN 978-4840237154, luty 2007r.
毒吐姫と星の石, ISBN 978-4048700580, 10 listopad 2010r.