Ultimate Antihero
From Baka-Tsuki
Only available to registered users. Register here
Do you follow this series? Rate it!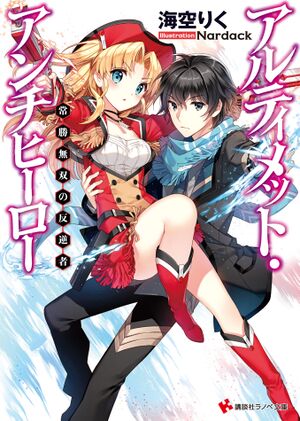 Ultimate Antihero (アルティメット・アンチヒーロー) is a Japanese light novel written by Riku Misora (海空 りく), with illustrations by Nardack. The first volume was published in October 2014 and the series is complete with 4 volumes.
Story Synopsis
Kamishiro Homura is a hero who once by himself exterminated the another world invader <Demon King> that destroyed the military all over the world. However his extreme strength made the influential people ostracize and exile him from the society with false accusation of [Traitor] attached to him. A few years after that, for an unspecified reason Homura entered the magician academy and he looked after the girls that were ridiculed as the [burden platoon]…!? This is the raise of the curtain of a fantasy tale of the unrivaled and invincible young man where not a single ally or enemy can keep up with him, the young man who sooner or later will be extolled as the messiah by the whole human race!
Translation
Translators are asked to register which chapters they're working on.
Format Standards
Feedback
The series is currently hosted and translated HERE. Future updates will also be posted here on Baka-Tsuki.
Updates
June 27, 2016 - Volume 4 completed
April 20, 2016 - Volume 3 completed
April 10, 2016 - Volume 2 completed
March 30, 2016 - Volume 1 completed
March 06, 2016 - Page created
The Ultimate Antihero series by Riku Misora
| | |
| --- | --- |
| | Volume 1: Invincible and Unparalleled Traitor (Full Text) |
| | |
| --- | --- |
| | Volume 2: The Fairy Queen and a Million Enemy (Full Text) |
| | |
| --- | --- |
| | Volume 3: The Eastern Grand Subjugation (Full Text) |
Project Staff
Project Administrator:
Project Manager:
Translators
Editors
Series Overview
アルティメット・アンチヒーロー 常勝無双の反逆者 - October 02, 2014 ISBN 9784063814118
アルティメット・アンチヒーロー2 妖精女王と百万の敵 - January 30, 2015 ISBN 9784063814385
アルティメット・アンチヒーロー3 東方大征伐 - July 31, 2015 ISBN 9784063814798
アルティメット・アンチヒーロー4 究極の個 - June 02, 2016 ISBN 9784063815429