Madan no Ou to Vanadis
Jump to navigation
Jump to search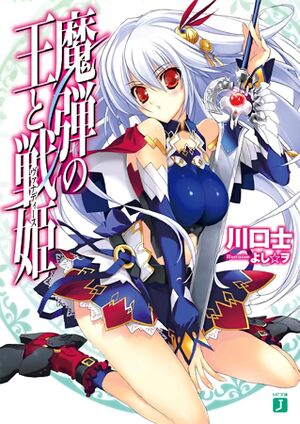 Madan no Ou to Vanadis (魔弾の王と戦姫) is a light novel written by Tsukasa Kawaguchi (川口士) and illustrated by Yoshi☆o (よし☆ヲ), published by MF Bunko J. The series currently has 15 volumes published.A manga adaptation began in 2011, illustrated by Yanai Nobuhiko (柳井伸彦), published by Media Factory on Comic Flapper. An anime adaptation aired from October to December 2014.
The Madan no Ou to Vanadis series is also available in the following languages:
(Note: Translation progress varies for each version.)
Story Synopsis
In times of war, set in Western Europe, Eleonora Viltaria, one of the seven Vanadis of Zhcted, leads the war into Brune. There are actually seven Vanadis, named like this because they each received a powerful weapon from the dragon, to reign over seven territories, each possessing their own. The power of the Vanadis causes dread and fear toward their enemies. An Earl in the service of the country of Brune, a young archer called Tigre, got a taste of it after he was defeated on the battlefield by Ellen (Eleonora). However, Ellen decided to spare his life after seeing his skills. In exchange, he is asked to serve Ellen....
Translation
Format Standards
Every Chapter (after editing) must conform to the general format guidelines.
All translations are to be in British English.
Translators are asked to register which chapters they're working on.
Feedback
If you enjoyed the teasers, why don't you tell us in the Feedback thread
Updates
02 January 2016 - Volume 12 completed
17 July 2015 - Volume 11 completed
09 December 2014 - Volume 10 completed
13 July 2014 - Volume 9 completed
11 April 2014 - Volume 8 completed
03 November 2013 - Volume 7 completed
27 June 2013 - Volume 6 completed
17 November 2012 - Volume 2, 4, 5 MTL completed
25 October 2012 - Volume 3 MTL completed
18 October 2012 - Volume 1 MTL completed
8 September 2012 - Madan no Ou to Vanadis teaser project begun
The Madan no Ou to Vanadis series by Tsukasa Kawaguchi
Volume 17

Prologue
Chapter 1
Chapter 2
Chapter 3
Volume 18

Chapter 1
Chapter 2
Chapter 3
Epilogue
Short story
Project Staff
Supervisor: N/A
Project Manager: N/A
Translators
Editors
All editors who speak proficiently in English are welcome.
Inactive
Tasear aka Mokata (Helping Leisurely on older chapters [MTLs]
Active
Series Overview
魔弾の王と戦姫〈ヴァナディース〉 (25 April 2011, ISBN 978-4-8401-3857-4)
魔弾の王と戦姫〈ヴァナディース〉2 (25 August 2011, ISBN 978-4-8401-3970-0)
魔弾の王と戦姫〈ヴァナディース〉3 (22 December 2011, ISBN 978-4-8401-4339-4)
魔弾の王と戦姫〈ヴァナディース〉4 (25 April 2012, ISBN 978-4-8401-4553-4)
魔弾の王と戦姫〈ヴァナディース〉5 (24 August 2012, ISBN 978-4-8401-4685-2)
魔弾の王と戦姫〈ヴァナディース〉6 (25 January 2013, ISBN 978-4-8401-4962-4)
魔弾の王と戦姫〈ヴァナディース〉7 (25 July 2013, ISBN 978-4-8401-5187-0)
魔弾の王と戦姫〈ヴァナディース〉8 (24 January 2014, ISBN 978-4-0406-6154-4)
魔弾の王と戦姫〈ヴァナディース〉9 (23 May 2014, ISBN 978-4-0406-6749-2)
魔弾の王と戦姫〈ヴァナディース〉10 (24 October 2014, ISBN 978-4-0406-7124-6)
魔弾の王と戦姫〈ヴァナディース〉11 (25 March 2015, ISBN 978-4-0406-7477-3)
魔弾の王と戦姫〈ヴァナディース〉12 (24 July 2015, ISBN 978-4-04-067720-0)
魔弾の王と戦姫〈ヴァナディース〉13 (25 November 2015, ISBN 978-4-04-067958-7)
魔弾の王と戦姫〈ヴァナディース〉14 (25 March 2016, ISBN 978-4-04-068180-1)
魔弾の王と戦姫〈ヴァナディース〉15 (23 August 2016, ISBN 978-4-04-068601-1)
魔弾の王と戦姫〈ヴァナディース〉16 (25 January 2017, ISBN 978-4-04-069014-8)
魔弾の王と戦姫〈ヴァナディース〉17 (25 July 2017, ISBN 978-4-04-069348-4)