Haken no Kouki Altina PL
From Baka-Tsuki
Haken no Kouki Altina (覇剣の皇姫アルティーナ) to powieść młodzieżowa napisana przez Yukiyo Murasaki, do której ilustracje stworzył himesuz.

Haken no Kouki Altina jest również dostępne w następujących językach:
Streszczenie fabuły
[
edit
]
Regis jest molem książkowym i świetnym strategiem, jednak zupełnie nie radzi sobie z mieczem, ani tym bardziej z łukiem, więc łagodnie mówiąc słaby z niego żołnierz. Pewnego pochmurnego dnia dostaje przydział do jednostki mającej swoją bazę w twierdzy na samym krańcu imperium. Spotyka tam dziewczynę o czerwonych włosach i ognistych oczach. Szybko okazuje się, że jest to księżniczka Marie Quatre, której powierzono dowodzenie w tym rejonie, w rzeczywistości jednak została tam wygnana. Jednak bez względu na przeciwności dąży do zrealizowania jej marzenia.
Tłumaczenie
[
edit
]
Nowe rozdziały będą dodawane, gdy tylko przejdą przez korektę.
Rejestracja
[
edit
]
Osoby chcące pomóc przy projekcie, powinny najpierw skontaktować się z którąś z osób odpowiedzialną za projekt poprzez forum toteż inna drogą komunikacji i zarejestrować się przy rozdziale, przy którym chcą pomóc.
Standard Formatu
[
edit
]
Wszystkie rozdziały (po edycji) muszą być dostosowane do ustalonych reguł: General Format/Style Guideline
Aktualizacje
[
edit
]
09.09.2013 - Utworzono stronę główną projektu.
12.10.2013 - Dodano tłumaczenie 1 rozdziału.
18.06.2015 - Ukończono tłumaczenie 1 tomu.
Seria Haken no Kouki Altina stworzona przez Yukiya Murasaki

[

edit

]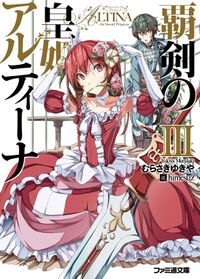 Ekipa Projektu
[
edit
]
Tłumacze
[
edit
]
Korektorzy
[
edit
]
Dotychczas wydano
[
edit
]
Haken no Kouki Altina I 覇剣の皇姫アルティーナ I (29 października, 2012)
Haken no Kouki Altina II 覇剣の皇姫アルティーナ II (28 lutego, 2013)
Haken no Kouki Altina III 覇剣の皇姫アルティーナ III (29 czerwca, 2013)
Haken no Kouki Altina IV 覇剣の皇姫アルティーナ IV (30 października, 2013)
Haken no Kouki Altina V 覇剣の皇姫アルティーナ V (28 lutego, 2014, ISBN 978-4-04-729458-5)
Haken no Kouki Altina VI 覇剣の皇姫アルティーナ VI (30 czerwca, 2014, ISBN 978-4-04-729730-2)
Haken no Kouki Altina VII 覇剣の皇姫アルティーナ VII (30 października, 2014, ISBN 978-4-04-729977-1)
Haken no Kouki Altina Shokitan 覇剣の皇姫アルティーナ 小綺譚 (30 października, 2014, ISBN 978-4-04-729978-8)
Haken no Kouki Altina VIII 覇剣の皇姫アルティーナ VIII (28 lutego, 2015, ISBN 978-4-04-730230-3)